The History of Mason and Risch Pianos
Mason and Risch began in Toronto, Canada in 1871 as Mason, Risch, and Newcombe; however, in 1878 after Octavius Newcombe left to begin his own firm, Thomas Mason and Vincent Rische changed the name to Mason and Risch. The company began by selling others piano lines, but in 1877, they began to produce their own instruments bearing their name.
From 1886 until 1890, the company was closely associated with the Lansdowne Piano Company, and in 1948, it was acquired by Winter and Company. Winter & Company was later purchased by the piano giant - Aeolian Corporation – who continued to use the Mason and Risch name. [1]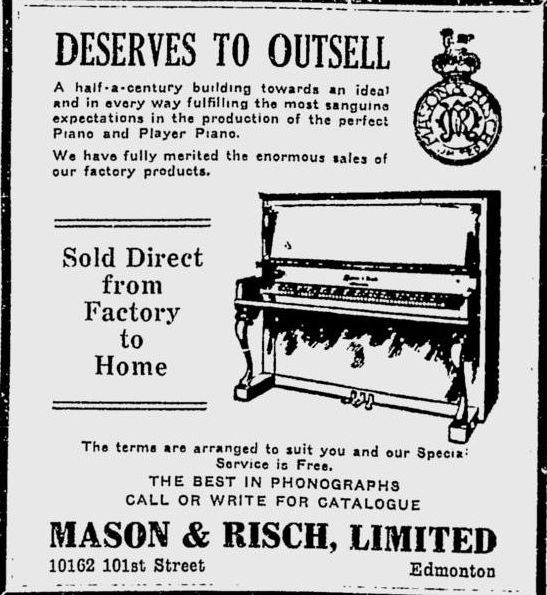 Starting small and eventually growing to become one of Canada's largest piano manufacturers, Mason and Risch contributed much to the piano industry in Canada. After changing hands several times, the Mason and Risch name disappeared in the late 1980's. [2]
About Mason and Risch Pianos

Receiving many accolades, including an acclamation by renowned composer Franz Liszt, Mason and Risch pianos were well known amongst the musical community both in and outside of Canada. Pope Puis XI and even Queen Victoria preferred Mason and Risch pianos to others and wrote letters of high praise to the company. Clearly, instruments of superior craftsmanship, Mason and Risch upright and grand pianos were well made, durable, had beautiful casings, and were of superior tonal quality. [2]
Restoring a Mason and Risch Piano
Fully restored, a Mason and Risch upright piano can retail for around $18,500; however, they can go for much more or much less than that. Determining the value of a Mason and Risch instrument depends on the model, condition, and even the previous ownership of the instrument. Lindeblad's experts are highly skilled in restoring pianos from all over the world and would love to talk to you today about restoring your masterpiece. Reach out to us now!
References:
[1] Pierce, W. Robert. Pierce Piano Atlas: Anniversary Edition, 2017 Our 70th Year. Albuquerque: Ashley, 2017. Print.
[2] http://www.bluebookofpianos.com/agesm.htm#MASON%20&%20RISCH
Images:
http://www.vintageedmonton.com/2017/08/august-9-1923.html

https://www.sellmystuffcanada.com/store/product/1336/mason-and-risch-upright-piano/