1
Selecting
A Steinway
Buying New, Used,
or Restored?
When considering the purchase of a Steinway, there are three main types you can choose from. We've simplified your search by breaking each option down into simple pros and cons.
Pros
Cons
New
Steinway
One of the great benefits of buying a new Steinway is that because it's all-new, there isn't much homework involved. You know what you're getting and you can trust the quality.
The only downside is price. A new Steinway grand ranges from $75,500 on the low end and up to $585,000 for certain concert grands (as of 2021).
Used
Steinway
Used Steinways can be between 50% and 70% cheaper than a new Steinway. This option is much more popular considering their lower cost.
The condition and quality of a used Steinway is uncertain. You could purchase the piano only to later discover that it needs tens of thousands of dollars in repairs.
Also, the typical lifespan of a piano ranges between 65 and 75 years. If you buy a Steinway that's 30 to 40 years old, you could be investing a large amount of money only to have half its life used up.
Restored
Steinway
If you can find a company that uses genuine Steinway parts, installed to the right specifications by experienced Steinway craftsmen, you could essentially get a brand new Steinway Grand for the same low cost of a used one.
Look for a restorer that specializes in Steinways and restores hundreds of them each year.
Not all restoration companies are equal. The range in quality between an experienced Steinway restoration company and a small rebuilder is vast. Since it's an unregulated industry, anyone in their garage can make a website and say they're a piano restorer. It's essential you know who you are working with.
Do you own a Steinway and are wondering about its age? Check out How Old Is My Steinway for helpful tips and tricks.
Buying Privately or
From a Dealer
Which Model/Size
Fits Best
As you continue to research your options, it can be difficult to visualize the difference between Steinway Models. To assist with your research, we will send a Steinway Sizing Template to your home free of charge. This one's on us.
Additionally, if you send us the dimensions of your room, our interior designer can sketch some samples to help you assess your best options.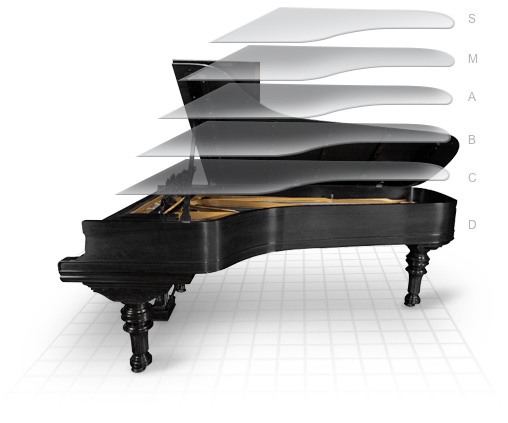 When reaching out to dealers and private sellers, it's important to know the right questions to ask. Use this complete checklist to guide your research and help you avoid common purchasing mistakes.