Finding the right acoustic piano is just as much about selecting the best quality and sound for your instrument as it is about where and how it will fit in your space. This is particularly true for pianos going in small homes or apartments. We've compiled a list of compact acoustic upright pianos ranging in price that are good options for buyers with space constraints.

$3,000-5,000 Compact Piano Options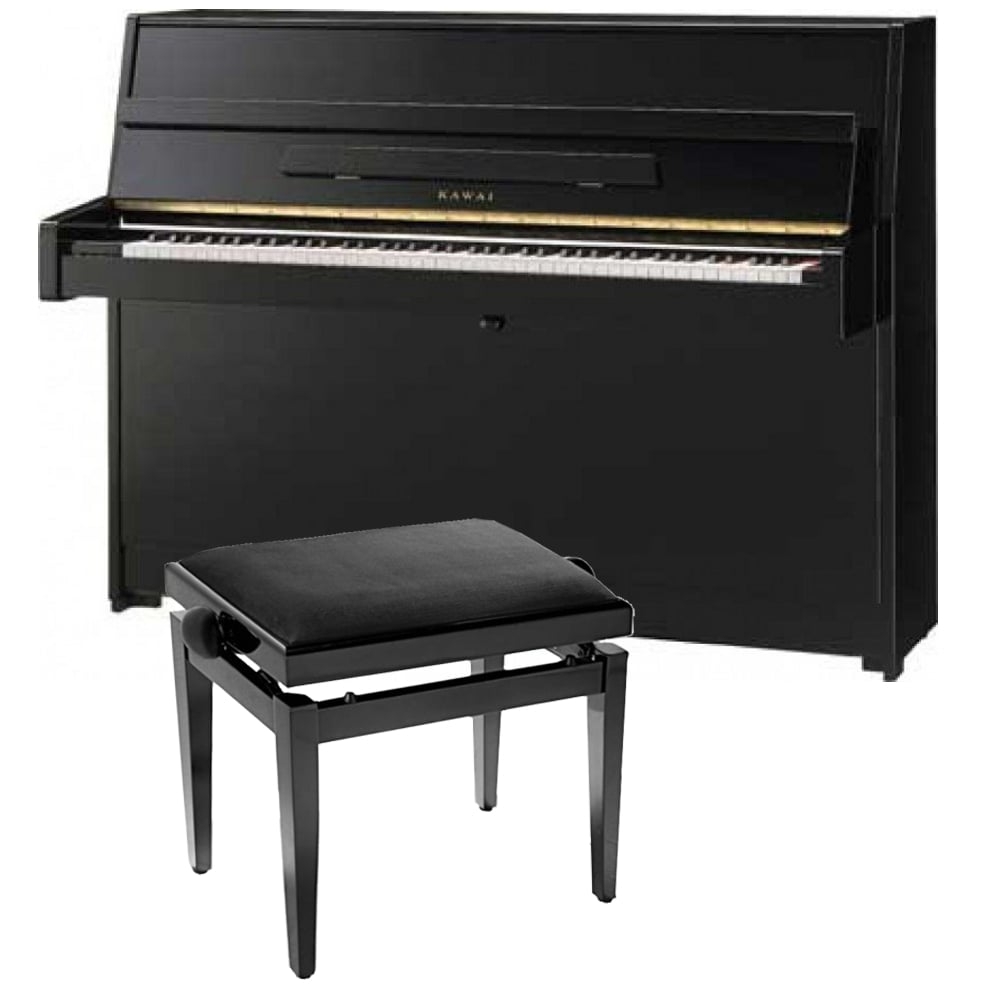 This professional upright piano is the smallest in the K-series made by Kawai. For the sub-$5,000 price, the acoustic K-15 is a great compact piano for in-home piano playing and practice. Because of the composite materials replacing natural wood in the action, climate control is not as much of a consideration when deciding where to place this piano in a small home or apartment. Check out Lindeblad's selection of Kawai pianos here.
Specs:
Height - 43"
Width - 59"
Depth - 23"
Weight - 431 lbs
Similar to the Kawai K-15, the Young Chang Y-114 is a competitive acoustic piano option for apartments and homes where space is limited. For improved tone and sound quality across the keyboard, the former director of piano research and design for Baldwin Piano & Organ has redesigned the newer Y-114 models. Young Chang is known as a good starter piano option made for longevity of use in a studio size.
Specs:
Height - 45"
Width - 60"
Depth - 24"
Weight - 452 lbs
Owned by the same business group, Hyundai Development Company, Weber and Young Chang are very similar in their material makeup, look and feel. The Albert Weber AW-121 is a professional upright at 48" tall. With a solid spruce soundboard and higher-quality hammer felt for better tone and response, the AW-121 offers pianists a richer sound in a small piano size for an affordable price.
Specs:
Height - 48"
Width - 59"
Depth - 24"
Weight - 496 lbs


$5,000+ Compact Piano Options
Stepping up in price to evaluate premium upright pianos on the market, the Essex EUP-123E comes to mind first, as it's still an amazing value for the quality of engineering. Designed and manufactured by Steinway & Sons, the Essex upright pianos have the classic studio upright design that fit well in most all small homes or apartment settings.
Specs:
Height – 48.5"
Width – 60"
Depth – 26.5"
Weight – 561 lbs
Perfect for a narrow hallway entry or sitting room nook, the Boston UP-118 PE is Steinway's other best-in-class upright piano brand option. With slightly less string tension, the Boston uprights have a larger soundboard, giving them a superior tone quality and longer piano life. Because of its small frame, this Boston performance edition piano is ideal for small apartments or homes. Check out Lindeblad's selection of Boston pianos here.
Specs:
Height – 46.5"
Width – 59"
Depth – 23.5"
Weight – 561 lbs
Very different in sound but comparable in size to the Essex and Boston pianos, the Yamaha U1 is a classic upright acoustic piano in Yamaha's U series. Made in Japan, Yamaha designed the U1 for experienced and beginner pianists alike to enjoy the integrity of their pianos in a smaller size. For this reason, the U1 provides professional sound quality while being ideal for compact apartment spaces and homes. Check out Lindeblad's selection of Yamaha pianos here.
Specs:
Height – 48"
Width – 60"
Depth – 24"
Weight – 502 lbs
Do you have a favorite compact acoustic piano in your apartment or small room in your home? Let us know in the comments below which piano brands you would recommend and why!