The History of Lauter Pianos
The Lauter Piano Company was originally established in 1862 as music store on Broad Street, Newark, New Jersey. S.D. Lauter founded his company with the ambitious goal of selling reliable pianos at reasonable prices to customers all over the world.
When he died in 1885 and Charles E. Cameron, Sr. took ownership of the company, Lauter began manufacturing their own pianos and continued to do so well after the Great Depression. Cameron's son, Charles E. Cameron, Jr. , followed in his father's footsteps and managed the company from 1936 until 1966.
The Lauter Piano Company, later located at Sussex Avenue, closed down production of their pianos in 1963 and subsequently ended sales in 1966. [1,2]
Factory on Lackawanna Ave., Newark, NJ across the street from the Lackawanna Railroad station.

Lauter Piano Company Piano Information
Lauter Piano Company made their own grands, upright grands, and player pianos marketed with the brand names Lenox, Llewellyn, and Lauter-Humana. Those familiar with Lauter pianos claim that they were built with fine quality materials, both cosmetically and structurally. The evidence of the quality of instrument can be seen and heard after decades, upon observing the pearl-white ivory keys, the excellent veneer finish, and a full-bodied powerful sound.
Lauter-Humana player pianos, much like Bush and Lane player pianos, are of the rare breed of instruments where piano and player mechanism alike were constructed in the same factory. The New York Times in the 60's opined that a selection of the Lauter-Humanas with serial numbers 30,000 through 50,000 was "the best regular upright player piano in America." [1,3]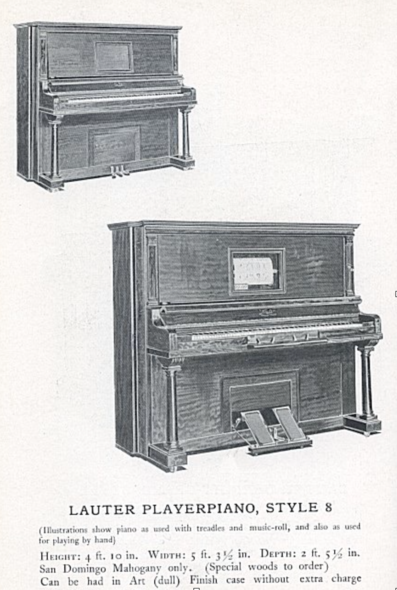 Whether to restore a Lauter or not?
Lauter Pianos make excellent restoration projects, whether it is to the internal framework or external components. Many Lauters have aged well over the decades, owing to their original high standard of construction, and often require only fine tuning to get back into proper playing shape.  It is commonly recommended when restoring a Lauter that the gaskets be changed from the original design. [4] Contact Lindeblad for the value and more information on restoring a Lauter. 
References:
[1] Pierce, W. Robert. Pierce Piano Atlas: Anniversary Edition, 2017 Our 70th Year. Albuquerque: Ashley, 2017. Print.
[2] http://www.oldnewark.com/busind/misc/lauter.htm
[3] https://www.player-care.com/lauter-humana.html
[4] https://www.player-care.com/lauter-humana-rebuild.html