The History of Behr Brothers Piano Company
The Behr Brothers Piano company was founded in 1881 by Henry and Edward Behr – two brothers from Germany [1] committed to producing fine instruments. Their factory was located in New York City and was very large; churning out great numbers of pianos during its nearly 30-year run.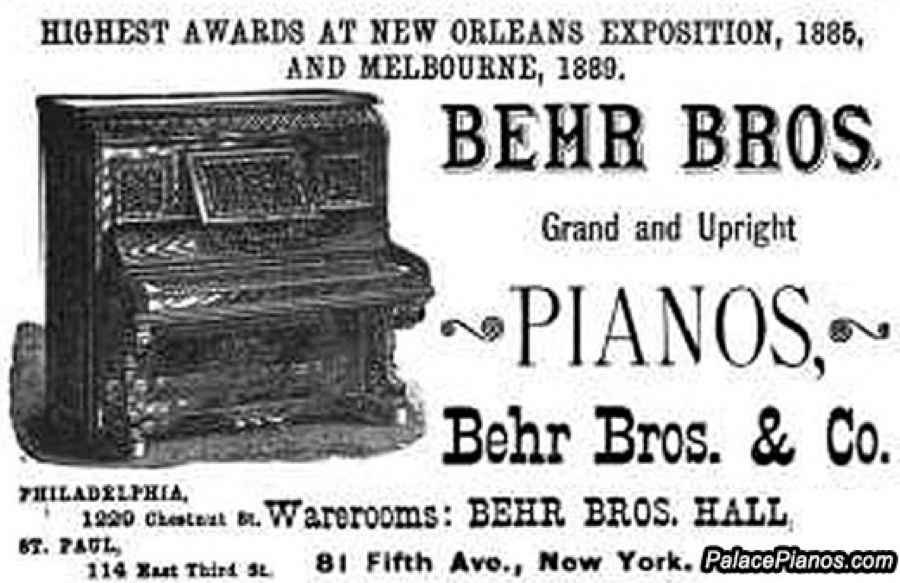 The company also manufactured Waldorf pianos in its factory. The Behr brothers continued to produce pianos under that name until 1910, when the piano-manufacturing giant, Kohler, and Campbell, purchased them. [2] 
About Behr Brothers Pianos
With ringing endorsements from some of the industries finest, including Edottard Remenyi, Moritz Moszkowski, and Xavier Scharwenka, Behr Brothers pianos earned their place amongst the highest-ranking instruments of their time. Behr's can be found in both grand and upright styles, as well as player pianos. 
In addition to their beautiful tone, these instruments are prized and valued for their intricate, labor-intensive designs and superior craftsmanship. Built to stand the test of time, pianos bearing the Behr name were coveted and beloved by many. [3]
Restoring a Behr Brothers Piano
If you have a Behr Brothers piano, it is definitely worth having it inspected and appraised by one of Lindeblad's restoration experts. Some fully restored Behr pianos can sell for as much as $17,000 on today's market. Because so much care went into the making of each instrument, a restored Behr piano sounds just as good today as it did when it was first built. Call Lindeblad today and let us discuss how we can bring your treasure back to life. 
References: 
[1] http://www.palacepianos.com/wpc/?p=2974 
[2] Pierce, W. Robert. Pierce Piano Atlas: Anniversary Edition, 2017 Our 70th Year. Albuquerque: Ashley, 2017. Print.
[3] http://www.bluebookofpianos.com/agesb.htm#BEHR
Image:
http://www.palacepianos.com/wpc/?p=2974