Henry F Miller Company History
Henry Miller started his piano company in 1863, after several decades working for renowned, contemporary piano manufacturers Brown & Allen in 1850, and the Emerson Piano Company in 1857. As a classically-trained pianist himself, Miller knew learned how to build pianos for the finely-tuned ear of a musician. Miller set up shop in Wakefield, Massachusetts, partnering with the respected piano craftsman at the time, J.H. Gibson. [1]

Not long after beginning production, Henry F. Miller pianos grew a reputation for their artistic frames and designs, rich sound and fine craftsmanship and were soon endorsed by many professional musicians of the day. By 1884, Miller's five sons joined the business and incorporated the company, producing pianos under the name Miller & Sons. Early on, there was a line of upright, grand and square pianos. They also produced a pedal piano that featured a full pedalboard similar to an organ. [2]

In the 1920s, Henry F. Miller was a division of the Continental Piano Company which was later bought by Winter & Co in 1945, moving the offices from its original New England home in Boston down to Memphis, Tennessee in 1951. In the late 1980s, the Aeolian American Corporation was producing pianos under the Henry F. Miller name before going out of business. As recently as 2013, Henry F. Miller pianos were produced by a Chinese manufacturer and imported to the U.S. [3]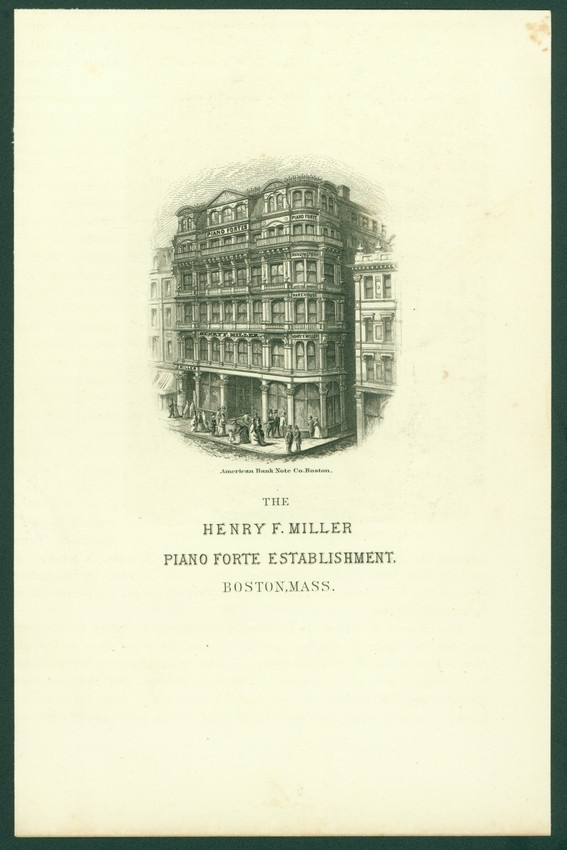 (4)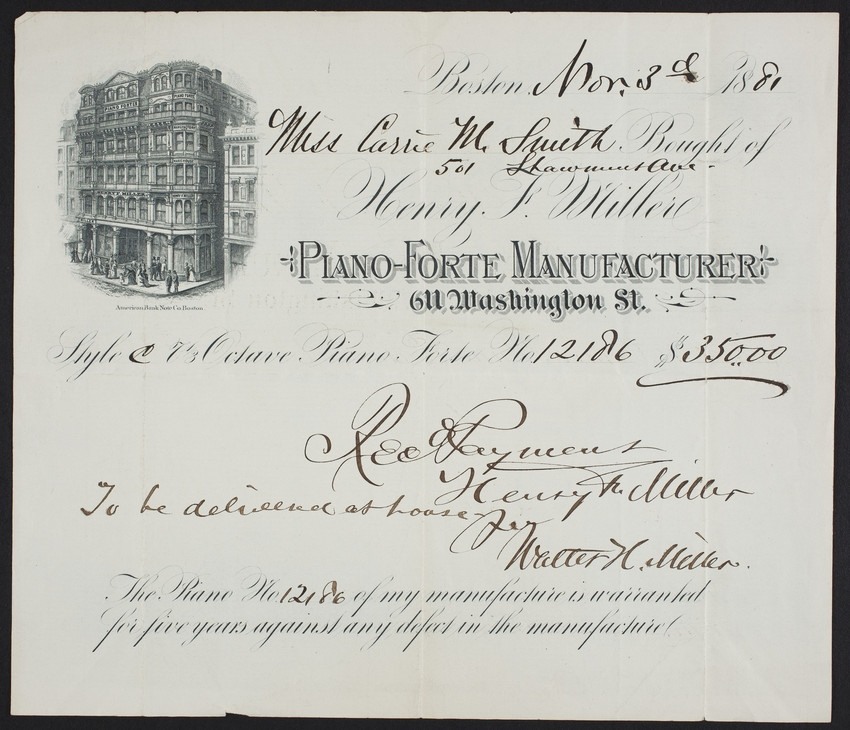 (4)

Henry F. Miller Piano Characteristics
Earning a widespread reputation for high quality, Henry F. Miller pianos were a leading brand preferred by many professional musicians in the late 1800s and early 20th century. The tedious design work done by both Miller and Gibson prior to beginning production led to incredibly well-made piano frames.
Henry F. Miller pianos found today stand out for the lasting materials used in the original pianos. The solid spruce soundboard is found on many of the early Miller pianos. Also, many Miller 7 Sons pianos are admired for their artistic frames, often decorated ornately for professionals and piano aficionados of their day.

Henry F. Miller Piano Restoration

For many Henry F. Miller piano owners, the beauty of the frame and the quality of the interior are still appreciated today. Restoring a Henry F. Miller piano and many of their models like the Towbridge and pedal board upright can increase the unrestored value of $500 up to $20,000.
It is key to select a team of expert restoration craftsman. At Lindeblad, we have over a century of combined experience restoring high-end, early-American piano brands like Henry F. Miller pianos. To begin the process of determining your piano's value, locate the serial number. We have a how-to guide for finding the serial number on all pianos - check it out!

Do you own a Henry F. Miller piano? At Lindeblad, we've restored and repaired many Henry F. Miller and Miller & Sons pianos. Contact us today to learn more!
References:
[1] http://www.concertpitchpiano.com/Henry-F-Miller-Piano-Prices.html
[2] http://antiquepianoshop.com/online-museum/miller-henry-f/
[3] Pierce, W. Robert. Pierce Piano Atlas: Anniversary Edition, 2017 Our 70th Year. Albuquerque: Ashley, 2017. Print.
[4] https://www.historicnewengland.org