The History of Cunningham Pianos
Patrick Cunningham founded the Cunningham Piano Company in 1891. From its Philadelphia, Pennsylvania factory, the Cunningham Piano Company produced its own namesake piano line but also manufactured Girard, Forrest, and Painter & Ewing pianos.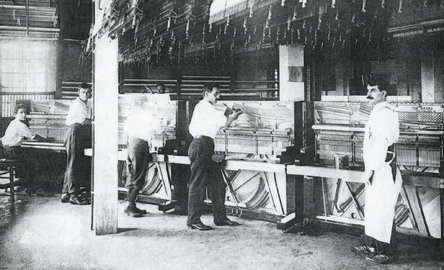 In 1924, the company grew again when it acquired the Overbrook Piano Company. The company was passed down through the generations until 2008, when sisters Rose Karr and Doris Reber, who had inherited the company from their father, sold it.
Two men by the name of Tim Oliver and Richard Galassini purchased the Cunningham Piano Company from the sisters and, for the first time in over one hundred years, the company was no longer family-held. Under Tim and Richard's ownership, the company has thrived. The two men reintroduced the Matchless Cunningham, the company's most popular model, and gave it new life by updating the design and scales, based on Pre-WWII plans.
Today, the Cunningham Piano Company still has offices in Philadelphia, but the Matchless Cunningham piano line is manufactured in China. It is exceedingly rare to find a piano company that has survived world wars, depression, and the modernization of the music industry, yet the Cunningham Piano Company has stood firm. Truly a testament to the popularity and quality of the instruments they produce. [1]
About Cunningham Pianos
Cunningham pianos were, and still are, exceedingly popular in Pennsylvania, New Jersey, and Delaware, but they have also made a name for themselves in many other places both domestically and internationally. These instruments are of very good quality and are held in high repute by the musical community. [2]
Restoring a Cunningham Piano

Cunningham pianos are certainly worth restoring for several reasons. First, they were very well made and therefore make excellent candidates for restoration. Secondly, they are unique in that the Cunningham piano name was not sold or incorporated into another, larger piano company. Third, there is a healthy market of pianists and collectors who are interested in purchasing antique Cunningham pianos. In addition, restored instruments play remarkably well!
Contact Lindeblad today to speak with one of our restoration experts about how we can help you get moving on your next project.
References:
[1] Pierce, W. Robert. Pierce Piano Atlas: Anniversary Edition, 2017 Our 70th Year. Albuquerque: Ashley, 2017. Print.
[2] http://www.bluebookofpianos.com/agesc.htm#CUNNINGHAM
https://www.cunninghampiano.com/about/