The History of Weser Brothers Pianos

Weser Brothers was founded by John Weser in 1879. Perhaps the very definition of a family-run company, all five of John's brothers also worked at the large New York-based company.
By the 1920's, Weser Brothers not only manufactured Weser brand pianos, but also Coloniet, Marveola, Re-Rendo, Orpheola, and Winfield pianos. [1] With over three acres of workspace, the Weser factory was large enough to accommodate multiple lines, and had a reputation for only hiring the most skilled craftsmen to build their pianos. [2]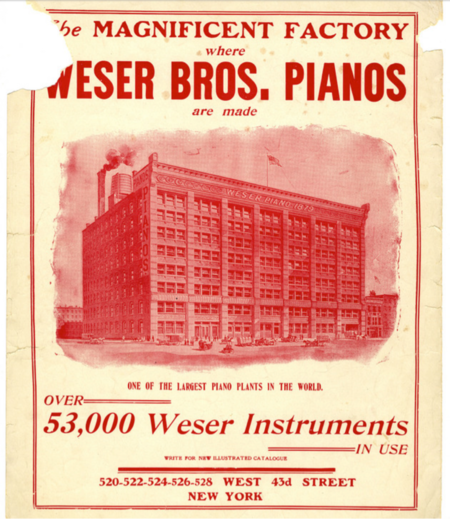 In the mid-thirties, two major piano manufacturers by the name of Winter, Story & Clark and Kohler and Campbell, acquired the Weser name and began producing Weser brand pianos. The Weser factory produced over 125,000 pianos in its day and shipped them all over the world. Sadly, as World War II broke out, production of Weser pianos ceased and was never able to fully recover in a post-war America.
About Weser Pianos
Weser produced grand, upright, and, perhaps most notably, player pianos. Many people recognize Weser pianos for their elaborate case designs and quality tone, as well as their distinctive Colonial and period models, among other defining characteristics.
Popular amongst musicians, and valued for their rich tone and durability, Weser pianos were highly desired in the late 1800's and early 1900's. Many Weser models contain direct-drive consoles, which the company pioneered and which further set Weser pianos apart from their contemporaries. [3]
Restoring a Weser Piano
Although Weser pianos are solid, durable instruments, they do not have much monetary value, even when fully restored. Most people who choose to restore their Weser, do so for sentimental reasons. A regularly tuned and well maintained Weser sells for anywhere from $100 - $500. If you have a Weser piano that you would like us to evaluate for restoration, call Lindeblad today.
References:
[1] Pierce, W. Robert. Pierce Piano Atlas: Anniversary Edition, 2017 Our 70th Year. Albuquerque: Ashley, 2017. Print.
[2] http://www.bluebookofpianos.com/agesw.htm
[3] Pierce, W. Robert. Pierce Piano Atlas: Anniversary Edition, 2017 Our 70th Year. Albuquerque: Ashley, 2017. Print.
Images:
http://omeka.wustl.edu/omeka/items/show/706m
https://www.flickr.com/photos/neloqua/galleries/72157625107057190?rb=1