The History of Steger and Sons Pianos
Founded in 1879, Steger and Sons Piano Manufacturing Company was located in Steger, Illinois; the small town created around the piano factory and named after it. Located about 30 miles from Chicago, the company was started by John Steger [1] who purchased the 1,500 acres of land that became the town of Steger. John envisioned a close-knit town filled with piano craftsman and anchored by the massive Steger piano factory.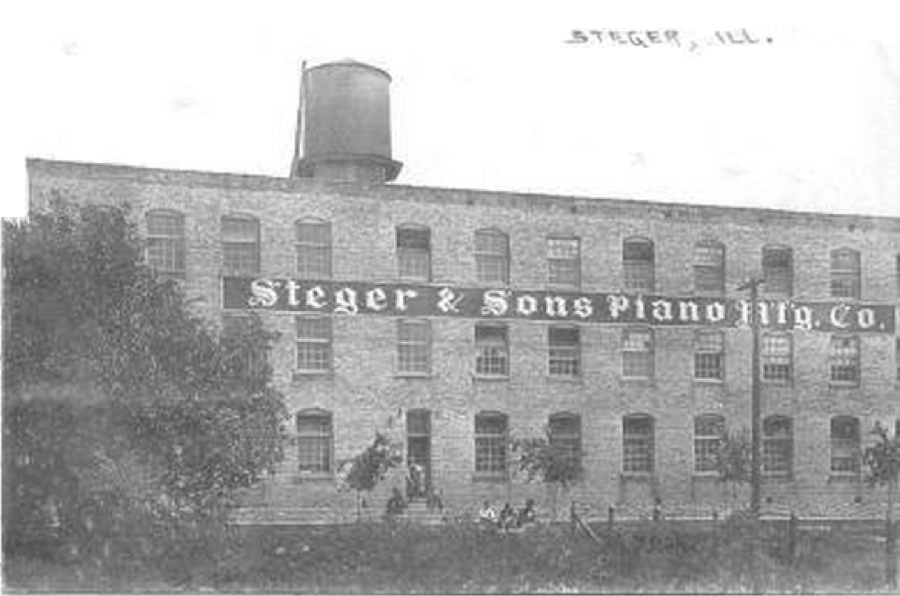 A fair, caring employer, John set up schools and laid out an easy pathway for factory workers to own the homes that they lived in. In return, the men and women employed by Steger and Sons were very loyal to the company and put a great deal of care and attention into their work. [2]
The company produced names such as Artemis, Reed and Sons, Singer, and Thompson, as well as their own name brand of pianos. Steger and Sons was one of the few piano manufacturers to survive the Great Depression, perhaps due to a combination of the quality of their products, coupled with the large volume of diverse piano lines they manufactured. The factory did eventually close its doors in 1959, after an 80-year run. [3]
About Steger and Sons Pianos
The Steger and Sons Company produced a diverse range of pianos including grands and uprights, player pianos, player grand pianos, reproduction grands and uprights, and phonographs. One can often distinguish a Steger piano by two characteristics: First, by its beautiful and elaborate case design; Second, by its beautiful tone.
Steger pianos are very fine instruments, and no cost was spared when they were produced. Beloved by serious pianists and composers, Steger instruments have certainly left a lasting mark on the world of pianos. [4]
Restoring a Steger and Sons Piano

Steger pianos are, in most cases, absolutely worth restoring. Not only have Steger instruments held their value, they have actually increased significantly in value. Steger pianos tend to restore very well, a testament to the care that went into building them.
A fully restored Steger grand piano can sell for up to $30,000, while uprights can sell in the $15,000+ range, depending on the style. Contact Lindeblad today to find out how we can help you restore your special piano. 
References: 
[1] Pierce, W. Robert. Pierce Piano Atlas: Anniversary Edition, 2017 Our 70th Year. Albuquerque: Ashley, 2017. Print.
[2] http://www.bluebookofpianos.com/agess.htm#STEGER%20&%20SONS
[3] Pierce, W. Robert. Pierce Piano Atlas: Anniversary Edition, 2017 Our 70th Year. Albuquerque: Ashley, 2017. Print.
[4] http://www.bluebookofpianos.com/agess.htm#STEGER%20&%20SONS
Images: 

https://commons.wikimedia.org/wiki/File:Steger_%26_Sons_piano_works_c._1910.png 
http://towns-and-nature.blogspot.com/2017/05/steger-il-c-depots.html

https://www.mypianofriends.com/i-love-my-new-steger-sons-but-i-want-to-know-age-232344.html