The History of Schomacker Pianos
In 1838 William Bosert and Johann Heinrich Schomacker began a piano manufacturing company called Bosert and Schomacker in Philadelphia, PA. A few years later, in 1842, Bosert and Schomacker went their separate ways and Johann Heinrich (who changed his name to John Henry [1] when he immigrated to America from Vienna) [2] founded the Schomacker Piano Company.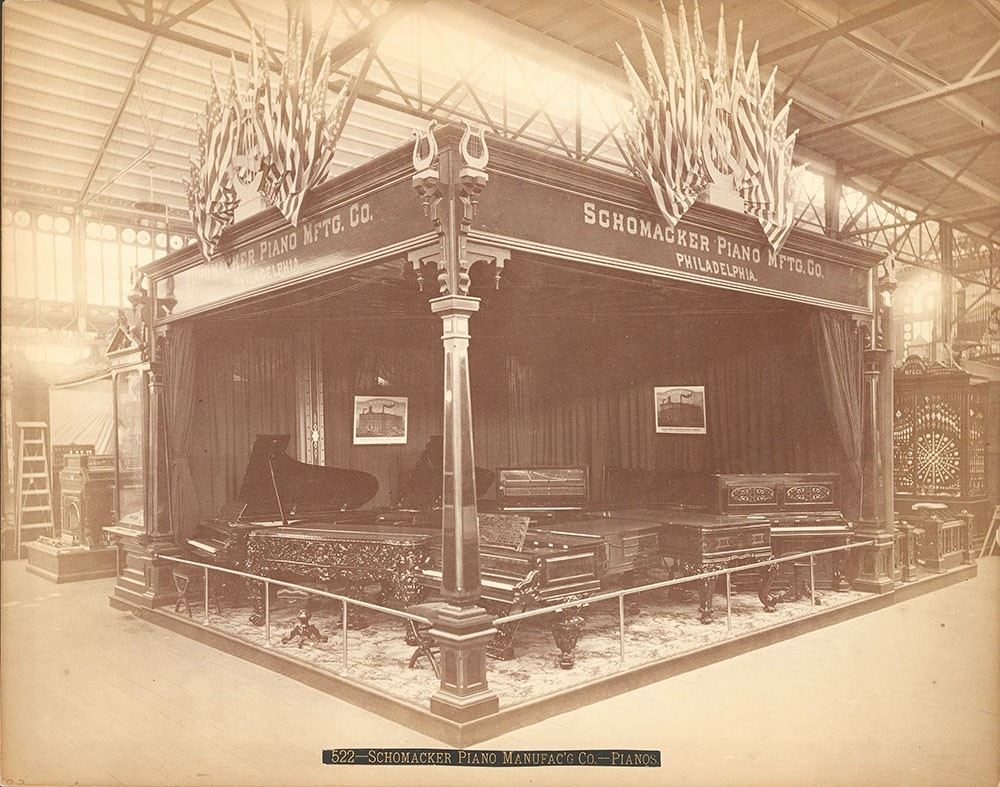 In 1855, with the company enjoying some success and growing, John Henry moved the business into a larger building and within a year, the company was incorporated. In 1864, a man by the name of Colonel H.W. Gray was president of the Schomacker Piano Company, and John Henry's son, Henry, was the company's secretary. With his business under solid leadership, J.H. Schomacker retired in 1872, just three short years before his death in 1875.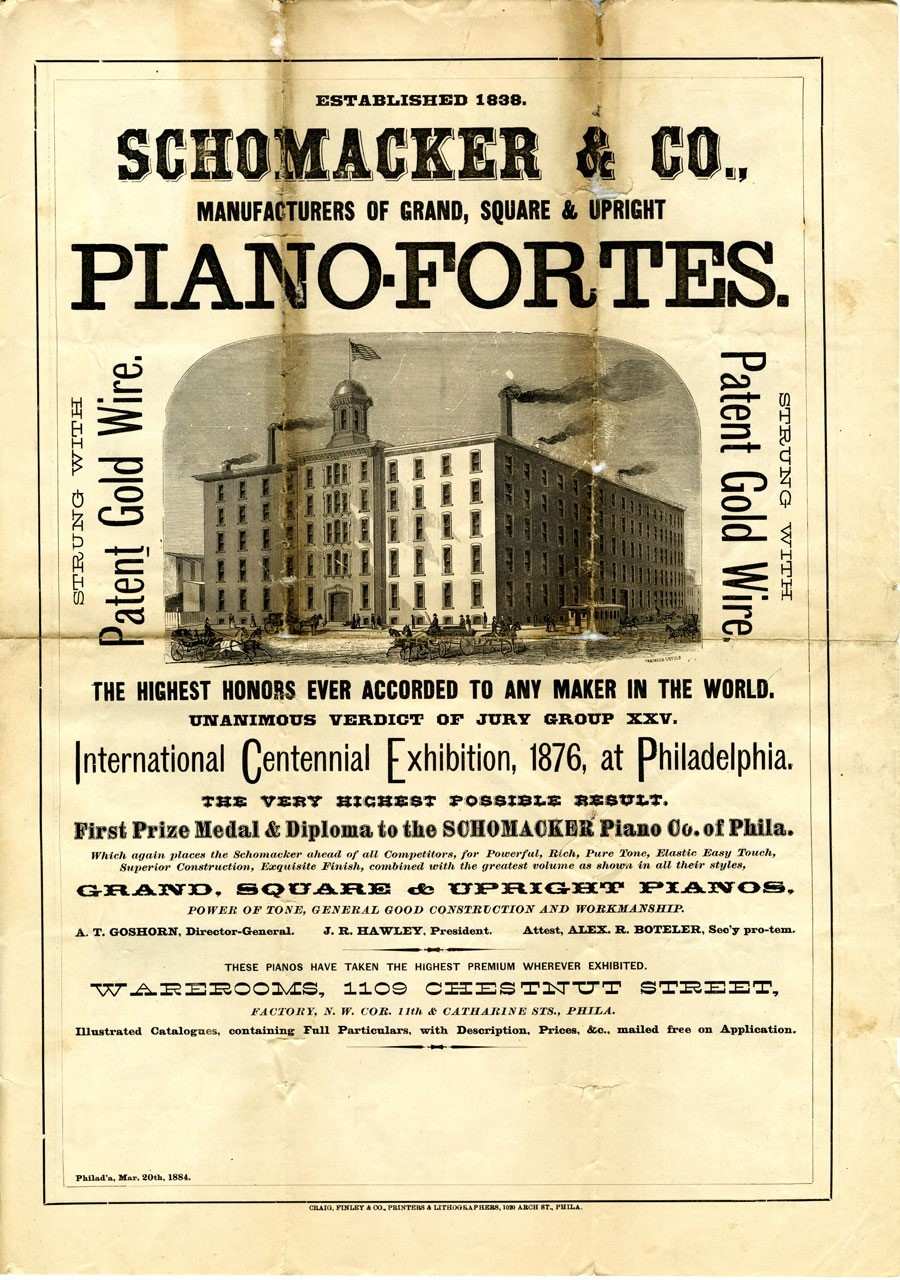 Henry Schomacker remained secretary of the company, even after it was sold to Wanamaker Stores (also located in Philadelphia) around the turn of the century. Henry would have been around 60 years old at the time Wanamaker acquired the company, but they kept him on, and he worked for them until his retirement some years later. Wanamaker Stores continued to produce the Schomacker line of pianos until the early 1940's. After about 100 years in business, the Schomacker line was discontinued – the end of an era.
About Schomacker Pianos
Probably one of the most intriguing things about Schomacker pianos was patented in 1876 by the president of the company at the time, Colonel H.W. Gray. He developed a technic wherein the piano strings were gold plated through a process called electro-plating. [3]
Schomacker pianos were famously called the "Gold String" pianos. [4] Schomacker instruments were award-winning and won medals at both the 1853 World's Fair in New York City, and the International Centennial Exhibition in Philadelphia in 1876. As the preferred piano for many famous pianists, composers, and politicians of the time (including President Ulysses S. Grant), Schomaker was a very fine and reputable brand associated with affluence and skill. [4] Spanning almost 100 years in production, Schomacker pianos came in a variety of designs and styles, with casework evolving under shifting design trends over the century.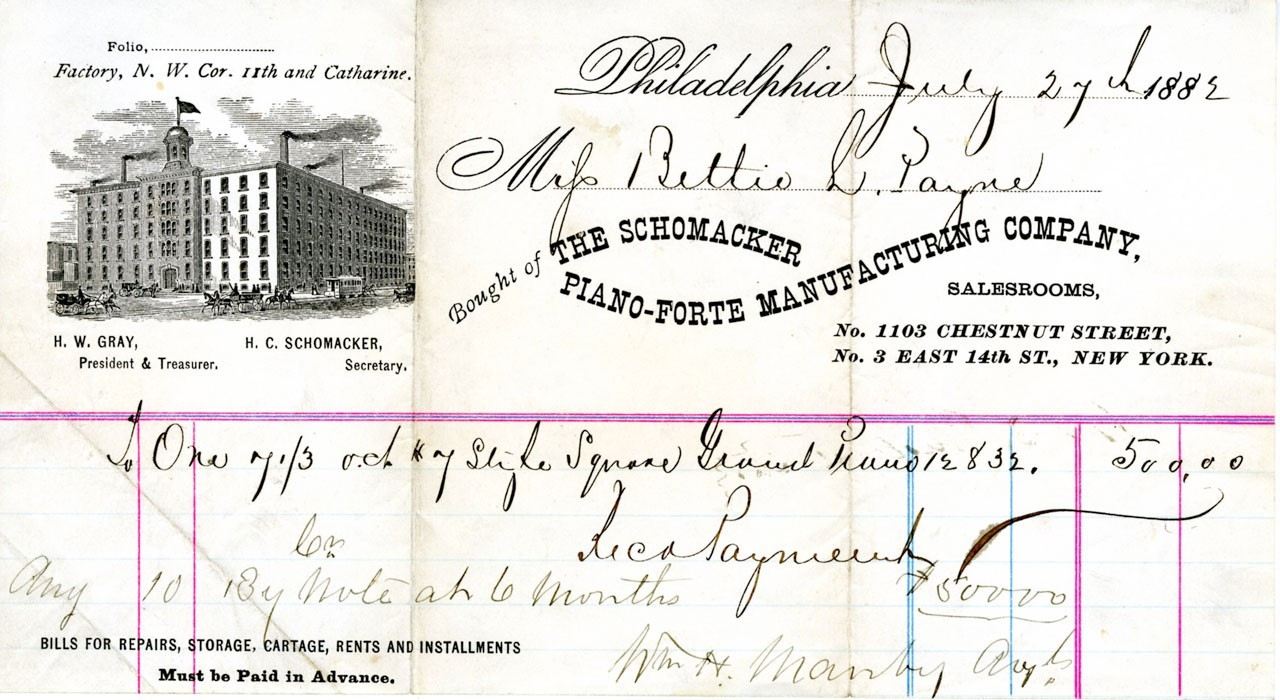 Restoring a Schomacker Piano
Although some are quite old, Schomacker pianos can still be found restored and in good working order today. These instruments are almost always worth restoring and each tells a story of times gone by. If you have questions about restoring your antique piano, or if you would like to know more about your Schomacker piano, please contact the experts at Lindeblad Piano today!
References:
[1] Pierce, W. Robert. Pierce Piano Atlas: Anniversary Edition, 2017 Our 70th Year. Albuquerque: Ashley, 2017. Print.
[2] http://historicshepherdstown.com/portfolio-item/1092/
[3] Pierce, W. Robert. Pierce Piano Atlas: Anniversary Edition, 2017 Our 70th Year. Albuquerque: Ashley, 2017. Print.
[4] http://historicshepherdstown.com/portfolio-item/1092/
Images:
https://libwww.freelibrary.org/digital/item/985
http://www.virginiamemory.com/blogs/out_of_the_box/tag/schomacker-piano-forte-manufacturing-company/