The History of Price and Teeple Pianos
Price and Teeple Piano Company was founded in 1902 in Chicago, Illinois. The company actually got its start under a different name, producing pianos out of a Kankakee, Illinois factory, before moving and officially forming Price and Teeple.
Price and Teeple also went by the names: "Carleton, Collins, Price and Teeple", "Schaeffer", "Symphonola", "Rembrandt", "Harmonola", "Auto Lyric", and "Art Symphonola". Interestingly, the company also made coin-operated pianos (an instrument that is just how it sounds – insert a coin,and a song plays. Similar to a modern-day jukebox). In 1937, Price and Teeple was acquired by Story and Clark. [1]
About Price and Teeple Pianos

With beautiful designs and casework, Price and Teeple instruments were a popular choice for many practiced pianists. Noted for their uniformity, buyers could count on each instrument being just as reliable and well made as the last. [2]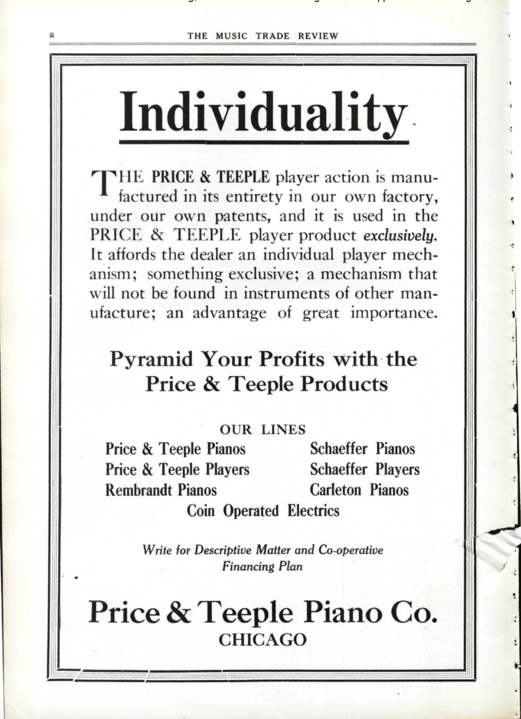 Restoring a Price and Teeple Piano
In today's market, a Price and Teeple piano can fetch as much as $22,000 when fully restored. If you find yourself in possession of a Price and Teeple slice of American history, it is definitely worth exploring the restoration process. Lindeblad's seasoned restoration specialists can assess your instrument and walk you through the steps and cost of the process. Contact us today!
References:

[1] Pierce, W. Robert. Pierce Piano Atlas: Anniversary Edition, 2017 Our 70th Year. Albuquerque: Ashley, 2017. Print.
[2] http://www.bluebookofpianos.com/agesp.htm#PRICE%20&%20TEEPLE
Images:

https://www.flickr.com/photos/teamaskins/2942643311/