More than 200 Years of History: Pleyel Pianos
In 1807, accomplished composer and music publisher, Ignaz Pleyel, opened Pleyel in Paris, France not knowing that it would one day become the largest and longest surviving pianoforte trade, wholesale, and retail in Europe. Camille Pleyel followed his father as company owner in 1824, who was followed by Auguste Wolff and then Gustave Lyon.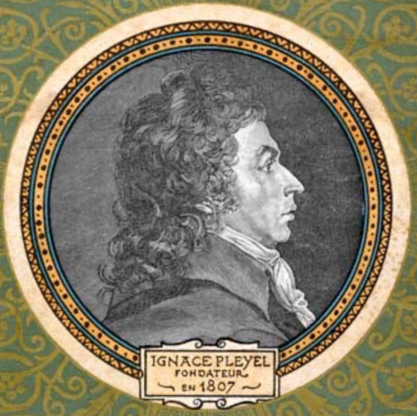 Pleyel went through several name changes, Pleyel, Wolff & Co., Pleyel, Lyon & Co., in response to the shifts in ownership. Pleyel pianos were manufactured out of Paris, most notably from the Saint-Denis Manufacturing Plant built in 1885. [1] By 1866 the company was producing 3,000 pianos a year. [2]
The Salle Pleyel (Pleyel Concert Hall) opened in Paris in 1927, housing 2,500 seats, and stands as Paris' most prestigious concert hall to this day, showcasing some of the best pianists and composers in Europe. [1] The piano manufacturer that saw more than two hundred years of world class musicians finally succumbed to the struggling French economy and fierce competition from China and Korea in 2013. [3,4]
Production dropped sharply from 1,000 pianos a year in 2003 to a mere 20 in the factory's closing year; however, some argue that Pleyel's error was not playing to the lower end of the market as well as the higher end. In order to survive in today's piano manufacturing atmosphere, piano company's are almost required to build at least a portion of their brand in countries with cheaper labor. Pleyel was unwilling to move any production outside of France and therefore ended manufacturing altogether. [4] The Pleyel showroom and workshop are still in operation and located at the Viaduc des Arts. [1]
The "Ferrari of the piano world"

Pleyel is a piano name nearly synonymous with the great Frederic Chopin himself. Pleyel had two pianos built specifically for Chopin, which he played numerous times from 1830 to 1848 in the Salle Pleyel. Liszt, Debussy, and Ravel were only a few of the many other great musicians who loved and revered Pleyel pianos. [3]
A Pleyel was built in true French fashion, full of romantic sonority and delicate sensitivity to touch. One review of the sound quality that a Pleyel produces has been described as "sweet and velvety." [5] Pleyel introduced metal bars for support to the piano structure as early as 1825. Gustave Lyon, a professionally trained engineer, and inventor, made several noteworthy contributions to the company during his ownership, including the double grand piano with keyboards at each end which was produced from 1890 until the 1920s. [1]

Pleyel Restorations
There are thousands of pianos in existence carrying the iconic Pleyel name, and therefore the history of French pianos with them. There are many variations in style, age, and condition among them, so the value of any specific Pleyel is highly determined on the piece in question. Many of the earliest Pleyel pianos are regarded with much sentimental value, but aren't worth much money. If you have a Pleyel piano that is in need of some care, please contact Lindeblad.
References:
[1] Pierce, W. Robert. Pierce Piano Atlas: Anniversary Edition, 2017 Our 70th Year. Albuquerque: Ashley, 2017. Print.
[2] http://www.pianola.org/factsheets/pleyela.cfm
[3] https://www.telegraph.co.uk/news/worldnews/europe/france/10447189/Worlds-oldest-piano-maker-Pleyel-shuts-last-workshop.html
[4] https://www.npr.org/sections/deceptivecadence/2013/12/28/257581367/chopins-favorite-piano-factory-plays-its-final-chord
[5] http://www.fortepianos.com/pleyel_info.htm