The History of Newman Brothers Pianos
Newman Brothers was established in 1880 in Chicago, Illinois, by brothers L.M. Newman (president) and A.W. Newman (vice-president).  Incorporated in 1982, the company originally manufactured both organs and pianos, but eventually phased out organ production to focus on creating superior pianos. [1]
The Newman brothers prided themselves on their factory that they solely owned and operated; at a time when many piano manufacturers rented space or had larger names manufacture their lines. With a clean, industry-standard-setting space to create, the brothers churned out wonderful sounding pianos for several decades. [2] Unfortunately, around the beginning of the Great Depression, Newman Brothers closed up shop and their piano line disappeared. [3]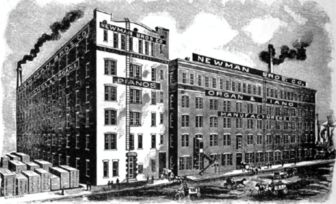 About Newman Brothers Pianos
Newman Brothers produced Grand, upright, player, and reproducing pianos, as well as phonographs, player actions, and reproducing actions. It might seem that a company that produced such a wide array of piano styles would not be able to build quality instruments, but that is certainly not the case with Newman Brothers. With a focus on sleek, modernized casings built with care by only the most skilled of craftsmen, these pianos were a favorite of serious musicians with discerning ears. 
Their Grand and upright pianos produced a sweet, mellow, and appealing tone and had a wide range of volume, while their reproducing pianos made a bright and clear sound. Unlike many piano manufacturers who mass-produced instruments, Newman Brothers took a great deal of time to make each piano and did not focus on meeting quotas. Instruments were "built up to standard, and not down to a price". Despite the level of care that went into building each instrument, they were surprisingly affordable. [4]
Restoring a Newman Brothers Piano
Newman Brothers pianos are a joy to restore, as each was so carefully and beautifully built. Unrestored, but in decent condition, a Newman Bro's piano might be worth $500 - $2,000; however, when fully restored, Grands can increase in value significantly. The pricing of a restored Newman Brothers piano largely depends on the model and overall condition of the instrument.
If you would like to find out more about restoring an antique piano, please contact Lindeblad and one of our experts will talk you through the process. We look forward to hearing from you!
References: 
[1] Pierce, W. Robert. Pierce Piano Atlas: Anniversary Edition, 2017 Our 70th Year. Albuquerque: Ashley, 2017. Print.
[2] http://www.bluebookofpianos.com/agesn.htm
[3] Pierce, W. Robert. Pierce Piano Atlas: Anniversary Edition, 2017 Our 70th Year. Albuquerque: Ashley, 2017. Print.
[4] http://www.bluebookofpianos.com/agesn.htm
Images: 
https://mtr.arcade-museum.com/MTR-1904-39-15/index.php?page_no=24
https://chicagology.com/opera/pianocenter/ 
http://www.reedsoc.org/cards/newman.htm