The History of M. Schulz Pianos
Established in the great piano hub of Chicago in 1869, by Mathias Schulz, M. Schulz & Co. manufactured quite a few lines of pianos in its day. Some of the piano manufacturer's more popular lines included Irving, Maynard, and Bradford, in addition to their own name brand line.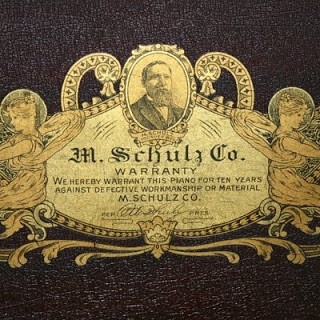 In the early 1920's, Otto Schulz, Mathias Schulz's son, took control of the company and successfully grew the business by acquiring the Mathias Organ Company. In addition to expanding their selection to include organs, the company also designed the Aria Divina Reproducing Action, which they implemented in their reproducing pianos.
M. Schulz & Company was very successful until the Great Depression hit and they, like so many others, was forced to shut down due to lack of demand. The original Schulz building engraving still adorns a modern renovated building today in Chicago. [1]
About M. Schulz Pianos
M. Schulz manufactured grand and upright pianos, as well as reproducing and player pianos – all of which had a reputation as first-class instruments. Known for their highly accurate, almost perfect scale, M. Schulz pianos were crafted from quality materials. Each instrument was built with great care, so as to uphold the company's reputation.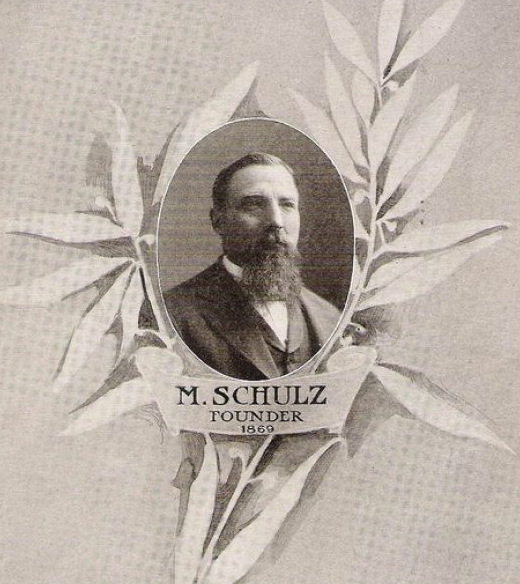 When played, M. Schulz pianos have a round, mellow, pure sound that is easily distinguished by the discerning musician. The pleasing notes these instruments produce are housed in equally visually appealing casework; a true treat for any pianist. [2]
Restoring a M. Schulz Piano
After total restoration, an M. Schulz upright piano can be worth up to $18,000. Depending on the depth of restoration that your M. Schulz piano needs, it may not make financial sense for you to restore it. Our restoration experts at Lindeblad can review your instrument, provide you with an estimate, and walk you through the restoration process. Reach out to us today and let us help you determine the worth of your piano!
References:
[1] Pierce, W. Robert. Pierce Piano Atlas: Anniversary Edition, 2017 Our 70th Year. Albuquerque: Ashley, 2017. Print.
[2] http://www.bluebookofpianos.com/agess.htm#M.%20SCHULZ%20&%20CO
Images:
http://forsaleinhaslet.blogspot.com/2008/11/1913-m-schulz-co-upright-piano.html
http://www.chicagonow.com/look-back-chicago/2013/05/forgotten-merchants-m-schulz-co/#image/1