The History of Kurtzmann and Hinze Pianos
See also Kurtzmann pianos. Kurtzmann and Hinze was formed in 1859 in Buffalo, New York [1] when Christian Kurtzmann went into partnership with a man called Mr. Hinze. Born in Mecklengburg, Germany, Kurtzmann immigrated to America and began manufacturing pianos bearing his name in 1848.
Christian Kurtzmann

After making Mr. Hinze his partner in the late 1850's, the two worked together to manufacture pianos under the new name. However, the partnership was not to last, and by the late 1860's, the two parted ways and the relationship dissolved. Kurtzmann continued to produce pianos under his own name until his death in 1886. [2]
About Kurtzmann and Hinze Pianos

Because the partnership was so short-lived, there is little information on the quality and sound of pianos produced under the Kurtzmann and Hinze name. That being said, pianos produced by Christian Kurtzmann were always of high tonal quality and superior craftsmanship. With that in mind, it is only fair to assume that a similar level of care and attention went into the production of Kurtzmann and Hinze pianos. [3]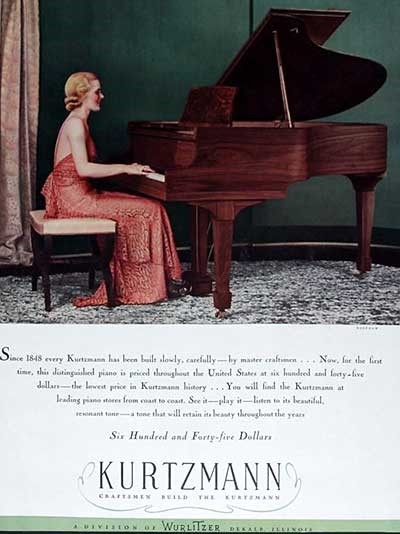 Restoring a Kurtzmann and Hinze Piano
Again, since the partnership of Mr. Hinze and Mr. Kurtzmann was so short, little is known about the worth of a restored piano from that line; however, restored Kurtzmann's can sell for anywhere for $18,000 and up. This might give one some idea of the price a restored Kurtzmann and Hinze would fetch. Contact Lindeblad today to find out more about restoring your Kurtmann and Hinze piano.
References:
[1] Pierce, W. Robert. Pierce Piano Atlas: Anniversary Edition, 2017 Our 70th Year. Albuquerque: Ashley, 2017. Print.
[2]http://www.wnyhistory.com/portfolios/businessindustry/kurtzmann_piano/kurtzmann_piano.html
[3] http://www.bluebookofpianos.com/agesk.htm#KURTZMANN
Images:
http://www.wnyhistory.com/portfolios/businessindustry/kurtzmann_piano/kurtzmann_piano.html