The History of Janssen Piano Company
Founded by B.H. Janssen in 1901, the Janssen Piano Company factory was located in New York City. As one of the few family-owned piano companies throughout the 1900s, Janssen became associated with Horace Water in New York around 1930. Janssen pianos were known for their various upright and grand piano varieties that were quality built while remaining affordable. [1]

Janssen was purchased in 1970, by Charles and Barbara Walter to become part of the Charles R. Walter piano company. At that time, the factory was moved to Indiana where Janssen pianos continued to be produced until the 1980s.
(3)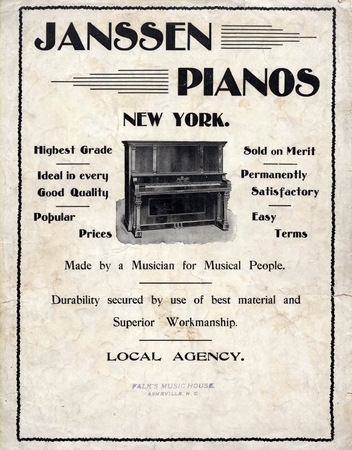 (3)
About Janssen Pianos
Many of the Janssen piano features were improved over time since production remained in the hands of a small family group and private ownership. For instance, their four-section cast iron plate allowed for longer durability and better tone quality. They marketed their pianos as having a Direct-Blow action, Sitka spruce soundboards and moth-proof hammers. [2]
The detailed features like the built-in fluorescent lights in the console made it the perfect in-home practice or playing piano. Janssen also introduced several interesting piano variations like their Janssen Spinet which is the smallest spinet piano in the world with a full keyboard.

Janssen produced pianos under the following names throughout the 1900s:

R.S. Howard

Raymond
Horace Waters
Wissner
Charles R. Walter
Restoring a Janssen Piano

Janssen pianos have a reputation for affordability and quality. To know what year, make and model your Janssen piano is, it is important to locate the serial number. The serial number is the piano's birth certificate, and it is a key piece of information in determining the value of the piano. Check out our blog on how to find the serial number on your piano.
(4)
Janssen pianos are found in many schools, practice studios, and homes today. The unrestored value of a Janssen piano is anywhere between $500-1,000. Deciding to restore your piano can be a big decision. Let us help!

Contact Lindeblad Restoration today.
References:
[1] Pierce, W. Robert. Pierce Piano Atlas: Anniversary Edition, 2017 Our 70th Year. Albuquerque: Ashley, 2017. Print.
[2] http://www.bluebookofpianos.com/agesj.htm
[3] http://www.thegrinnellat100.com/TheGrinnellat100PeopleintheNewsBHJanssen.html
[4] https://www.ebth.com/items/3869977-vintage-janssen-piano-and-bench