Ivers & Pond Piano Company
Ivers & Pond was a Boston, Massachusetts based company that gained national recognition for its production of exquisite high-quality pianos. Their pianos were found in hundreds of conservatories and schools and thousands of homes in the 20th century. The company was incorporated in 1880 by William H. Ivers and Handel Pond. The factory was located in Cambridgeport, Massachusetts and the offices were located in Boston until the company became part of Winter & Co. in 1945. Ivers & Pond serial numbers extend until 1983, and additional serial numbers can be found under Winter & Co. as well as Aeolian Corporation. [1]
More about Ivers & Pond Pianos
From baby grands and full grands to uprights and player pianos, Ivers & Pond pianos are truly works of art. They were desirable to piano students as well as professional musicians for their beautiful structure and charming tone quality. [2] Furthermore, they were regarded as highly durable instruments that could be played many times without signs of wear. They were available in exotic woods such as rosewood, mahogany, and finished walnut decorated with beautiful headboards that matched the exquisite sounds produced by the interior design. [3]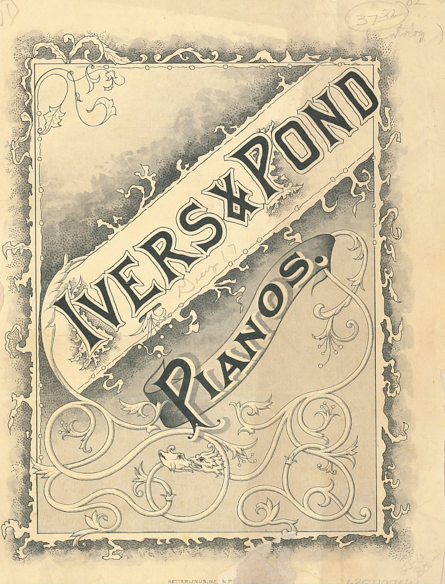 Restoring an Ivers & Pond
Ivers & Pond pianos are still popular today. Pianos range depending on the quality of the original manufacturing, year of production and current condition of the piano. Lindeblad specializes in restoring expensive and high-quality pianos. Contact us today!

References:
[1] Pierce, W. Robert. Pierce Piano Atlas: Anniversary Edition, 2017 Our 70th Year. Albuquerque: Ashley, 2017. Print
[2] http://bluebookofpianos.com/agesi.htm#IVERS%20&%20POND
[3] https://blog.library.si.edu/blog/2015/05/11/durable-pianos/#.WvDjHRw7MwQ
[4] https://www.pianomart.com/manufacturer/163/ivers-pond-pianos-for-sale