The History of Heintzman and Co Pianos
Theordore Heintzman, a German immigrant, founded Heintzman and Company in 1866. The company was located in Toronto, Canada, and should not be confused with Theordore's nephew's company known as the Gerhard Heintzman Piano Company. After Theordore Heintzman died in 1899, the company was moved to Hanover, Ontario. All manufacturing of Heintzman pianos was consolidated to the Hanover location by 1978, and the name was officially changed to Heintzman Limited.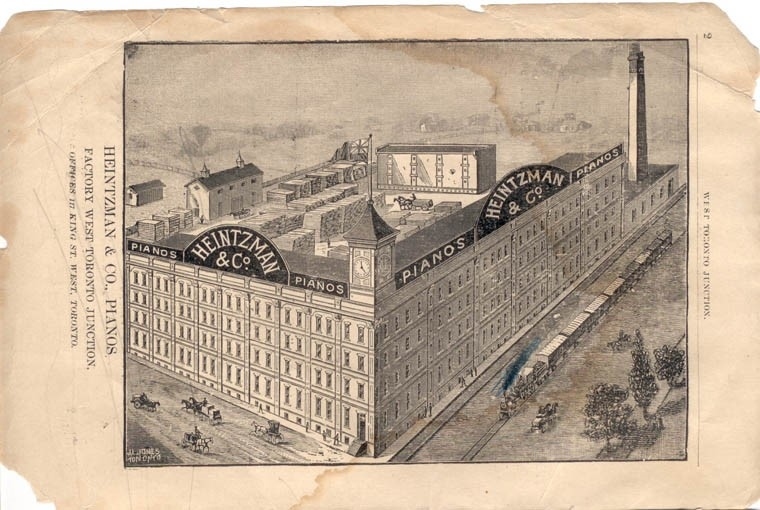 In 1981, the company was purchased by Canadian furniture manufacturer Sklar Peppler, and in 1987 was sold to The Music Stand Company of Ontario. After The Music Stand Company acquired the Heintzman name, they applied it to various pianos made by American manufacturers.
Although the original company is no longer in business, the Heintzman name is still used by Heintzman Distributors, Limited, a Canadian and Chinese based company. Interestingly, it was a Heintzman grand piano manufactured by Heintzman Distributors, Limited that was played in the opening ceremonies of the 2008 Beijing Olympics. That piano sold at auction for $3.22 million.
Because the company changed hands and names many times, it is hard to pinpoint when the original pianos bearing the Heintzman name were replaced by newer models. It is widely accepted that the original Heintzman name was retired in the 1980's when Heintzman and Company sold their machinery to China and liquidated their inventory. [1]
About Heintzman and Co Pianos
Heintzman and Company produced upright and grand pianos under their name, as well as the Nordheimer line of pianos. Instruments with the Heintzman name are well known in Canada and were very popular for over a century. With excellent tone and beautiful casings, Heinzman pianos have stood the test of time and remain a popular choice amongst discerning musicians even today.
Restoring a Heintzman and Co Piano
Owning to its storied history, the values of Heintzman pianos are all over the place. Some instruments can be found for free online, while others are sold for up to $30,000 in the private sector. Lindeblad's piano experts can help you determine the value of your piano and walk you through the restoration process. Contact us today to find out more about your instrument and let us help you breath new life into it.
References:
[1] Pierce, W. Robert. Pierce Piano Atlas: Anniversary Edition, 2017 Our 70th Year. Albuquerque: Ashley, 2017. Print.
Images:
http://hzmpiano.com/?page_id=5104