Chickering & Sons Historical Overview

One of the earliest American piano manufacturers, Chickering & Sons was founded by Jonas Chickering and partner James Stewart in Boston in 1823. [1] The early history of the company was characterized by multiple business partner and company name changes. partner and company name changes. 
The below timeline is important as it influences the value of pianos today. [2]
1823 - "Stewart & Chickering" was founded by Jonas Chickering with partner James Stewart.
1827 - Partnership between Chickering and Stewart dissolved.
1830 - Chickering partnered with John Mackay, a sea captain who sourced materials from South America for the pianos.
1839 - "Chickering & Mackays" produced pianos under new name with John Mackay's son William Mackay joining the partnership.
1841 - Chickering and the Mackay family partnership dissolved. Pianos manufacturing during this short window of time as "Chickering & Mackays" are very rare and valuable today. [3]
1852 - "Chickering & Sons" became the new company name when Chickering's sons George, Frank and Thomas joined as partners.
1853 - Jonas Chickering died and sons continued business.
1908 - "Chickering & Sons" sold to America Piano Company and continued producing Chickering pianos.
1932 - America Piano Company and Aeolian Piano Company merged and continued producing Chickering pianos.
1985 - The Aeolian-American Piano Corporation went out of business, ending the Chickering piano brand production.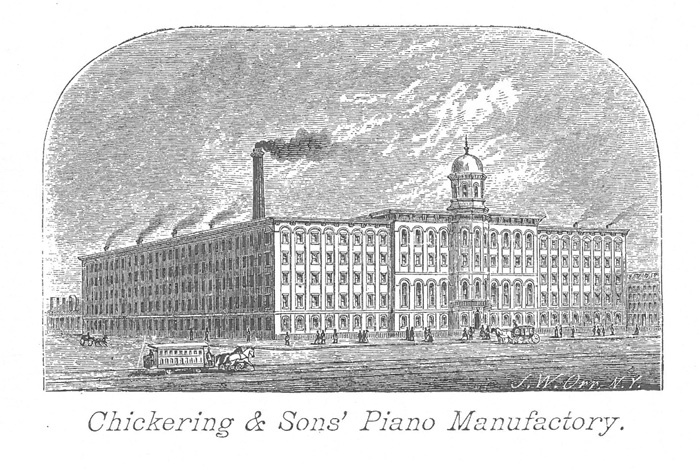 Chickering & Sons Piano Technology 

As one of the most popular piano brands of the 19th century, Chickering & Sons was well known for the quality of their instruments and several key advancements to grand piano technology. Most notably, Jonas Chickering added a single, cast iron plate to the piano, which is now standard on all pianos today. [4] This iron frame helped support higher string tensions for grand pianos. [5]
Additionally, Chickering was credited with inventing a new string deflection technique that stacked strings over one another for space saving in square pianos. For these advancements, Chickering & Sons was given many awards, including the Imperial Cross of the Legion of Honor in 1867, by Emperor Napoleon III for their contribution to music. [6]

Chickering pianos were the preferred concert piano of its time until Steinway's rise to prominence in the early 1900s. [7] As a means to promote their craftsmanship and piano quality, Chickering owned and operated a concert hall both in Boston and in New York city. In fact, Abraham Lincoln even brought several Chickering pianos into the White House to be played by the first family.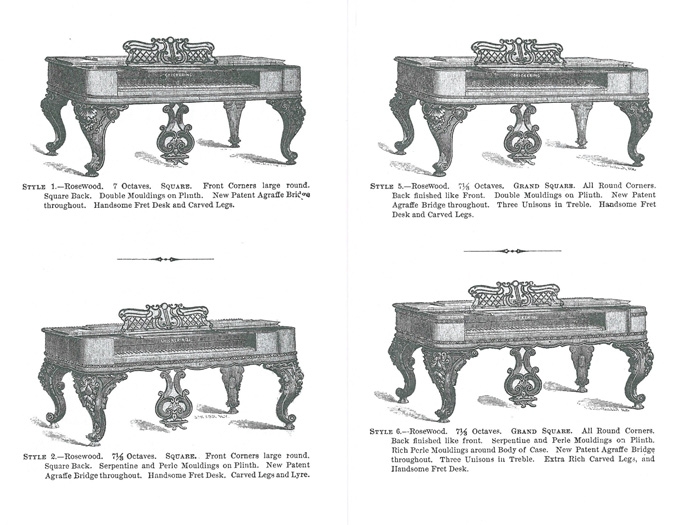 Restoring a Chickering Piano
The early history of the Chickering & Sons piano brand in America adds to the value of many of their pianos today. As one of the first piano manufacturers in America in the 1800s, Chickering & Sons produced pianos which now serve as unique, early-American musical artifacts.  
Depending on the year of production and condition, unrestored Chickering pianos can range in value between $500-$4,000. Particularly those pianos which can be dated back to when the company started as Stewart & Chickering and then Chickering & Mackays, the restored piano value can be in the mid $30,000. 
As with any piano and brand, it is critical to consider historical accuracy during restoration. At Lindeblad, our team has 19th century piano expertise. We understand the characteristics of the original production period and ensure the restoration project is done with precision and attention to detail. 
Do you have a Chickering & Sons piano?
Talk with one of our team members today about its value! 
References: 
[1] https://en.wikipedia.org/wiki/Jonas_Chickering, https://en.wikipedia.org/wiki/Chickering_%26_Sons 
[2] https://www.youtube.com/watch?v=L4yfS1bEHz8 
[3] http://antiquepianoshop.com/online-museum/chickering-sons/ 
[4] https://www.chuppspianos.com/services/grand-piano-parts/plate/ 
[5] https://archive.org/details/grandsquareuprig00chic 
[6] http://www.total-piano-care.com/chickering-and-sons.html 
[7] http://www.sweeneypiano.com/interstate/manufacturers/chickering%20_pianos.cfm