John Broadwood & Sons Piano History
The John Broadwood & Sons piano company was established in London in 1728 (by Burkat Shudi, a German-Swiss harpsichord maker) and considered to be the oldest surviving piano manufacturer in the world. In 288 years, the ownership of the company has only changed hands two times: in 1985 and in 2008.
In 1775, John Broadwood produced his first piano, a square, and then a grand in 1785. In 1794, they stopped making harpsichords, and by the 1890s, they had reached peak production and recorded employing over 500 people at their London factory. [1]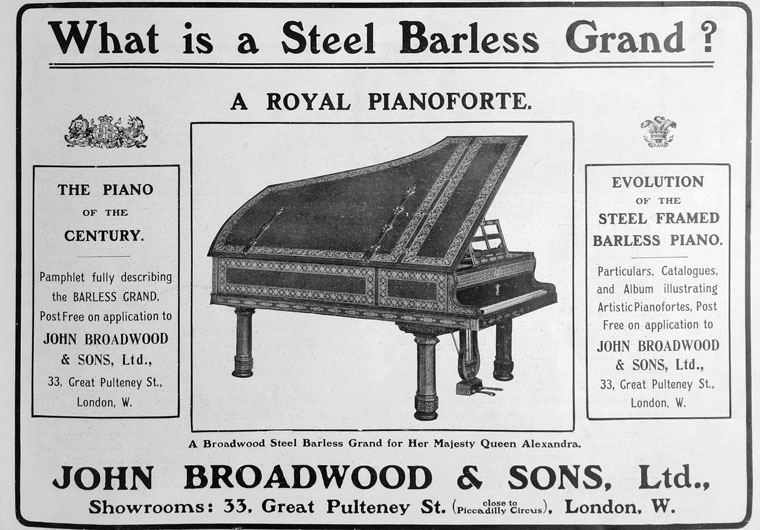 Throughout the 20th century, the company stayed true to their roots, producing a number of different piano styles based on early designs of the instrument. Due to the continuity in the company ownership and extensive record keeping, all Broadwood pianos can be traced to the original maker, manufacturing date and address of the first purchaser.
Today all Broadwood pianos are made in their Yorkshire factory in Northern England.
About Broadwood Pianos
Broadwood makes squares, concert grands, bichorda, semi and SDR grands, cabinets, cottage uprights, cottage grands, boudoir grands, grands and uprights. They were pioneers in developing a steel and iron strain-resisting structure and a barless system that does not interfere with stringing [2].
The original line of pianos included the squares and concert grands. In 1834, the bichorda semi and SDR grands production began, and in 1811, the cabinet style piano production commenced. In 1822, the cottage uprights were introduced, and by 1850, a new line of squares, concert grands, bichorda, cabinets and cottage uprights were brought to market. Small adaptations were made to style and piano technology improvements were made. However, the original tenets of a Broadwood piano remains in every piano produced even today.
Restoring a Broadwood Piano
To restore a Broadwood piano, call Lindeblad today to speak with one of our experts.
References:
[1] [2] Pierce, W. Robert. Pierce Piano Atlas: Anniversary Edition, 2017 Our 70th Year. Albuquerque: Ashley,2017. Print.