The History of Bluthner Pianos
Julius Blüthner founded his namesake company in 1853 in Leipzig, Germany. [1] With very little experience and "1660 talers, 2 new groschen, 1 penny, and 1 farthing" in his pocket, Julius started producing what many considered to be the finest crafted pianos that Europe has ever seen.
After introducing his pianos at various fairs and events across Europe to great success, and winning several accolades, Julius decided to open a factory in England and expand his business. Julius' business quickly enjoyed so much success that he built an entire concert hall in Leipzig, where he could showcase his instruments. Through all of that growth, Julius kept a focus on family, and his desire to leave his company to his sons came to fruition in 1910 when his sons Max, Robert, and Bruno took over the company upon his death.
A portrait of Julius and his three sons
The Blüthner brothers ran a tight ship and continued to expand upon their father's legacy. They guided the company successfully through the First World War and subsequent reconstruction and came out more successful than ever. As the rumblings of the Second World War loomed over Europe, Blüthner was busy building a piano to be played onboard the Hindenburg that would deliver the first concert from the air. The concert was broadcast to 63 stations in countries all over the world.
Destruction after WWII bombing

Unlike a traditional piano, this special instrument was made of aluminum to meet the strict weight requirements that an airship demanded. Despite its unconventional casing, the instrument sounded astonishingly beautiful. Construction of this futuristic piano is important to note because it showed that an old, established company was willing to innovate and explore new frontiers – an imperative contributing factor to the company's multi-century survival.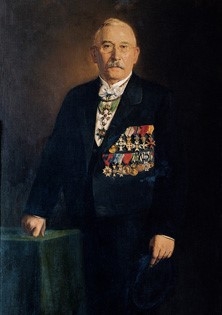 A painting of the reputable and decorated Julius Bluthner
The factory in Germany was completely destroyed after a night of bombings in 1943, and the family soon relinquished ownership of the company – after 90 years and three generations of ownership. It was not until 1990, that the company was joyously welcomed back into the Blüthner family again. Today, the company is still known for crafting some of the finest pianos in Europe and the world. [2]
About Bluthner Pianos
Blüthner instruments possess immaculate tonal quality and are the preferred pianos of many orchestras and pianists across Europe and the world. Blüthner pianos possess a sweet, "golden" tone and accompany stringed instruments particularly well. In addition, the superior sound these instruments produce makes them a favorite or many singers. With outstanding durability and performance, these instruments, some over 150 years old, are still used in many concert halls today. [3]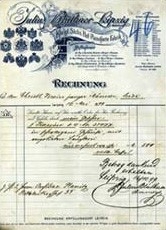 An original invoice of a Bluthner piano sale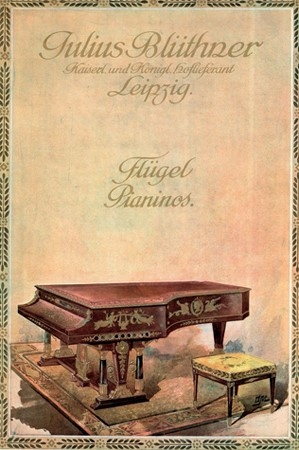 Restoring a Bluthner Piano
It is hard to know which highlights to include and where to even begin telling the story of Blüthner pianos because the company has survived wars, total destruction by bombing, depression, modernization of the music industry, and the list goes on. To find out more about the history of your Blüthner instrument, please contact Lindeblad. We would relish the opportunity to evaluate your piano, as well as walk you through the restoration process. Let's restore your unique piece of history together!
References:
[1] Pierce, W. Robert. Pierce Piano Atlas: Anniversary Edition, 2017 Our 70th Year. Albuquerque: Ashley, 2017. Print.
[2] http://www.reederpianos.com/bluthnerpianos/history.html
[3] http://www.reederpianos.com/bluthnerpianos/history8.html
Images:

http://www.reederpianos.com/bluthnerpianos/history.html