Baldwin Piano Co. History
Although the company bears the name of D.H. Baldwin, the Baldwin Piano Co. began flourishing after the death and relatively small contribution of its original founder. In 1866, Lucien Wulsin from Louisiana joined D.H. Baldwin, who was a music teacher at the time, and began helping him sell Decker Brothers' pianos in Cincinnati, Ohio. [1]
Together, they increased the demand for the pianos they were selling that they opened several branch stores in Louisville and Indianapolis. Soon, they had necessitated manufacturing their own pianos and embarked on the D.H. Baldwin & Company corporation which later took control of several subsidiaries and changed the name to The Baldwin Company. [2]

By 1899, D.H. Baldwin had died and left very little of his fortune to feed back into the business. Wulsin, who had partnered with him for over 30 years, decided to buy all the assets and build a name for the company and their pianos. This is exactly what happened over time, and Baldwin pianos became known as one of the most prestigious and highest quality pianos of the time.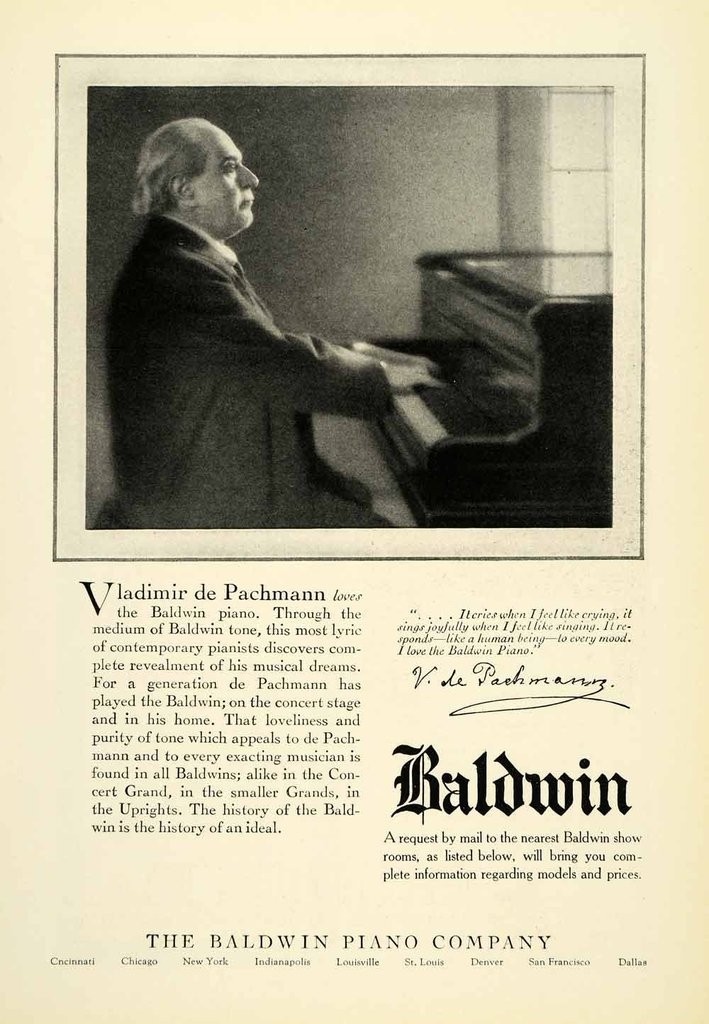 With an emphasis on ethical business practice and well-run factory environments, the Baldwin Piano Company not only produced quality pianos, but gained recognition for the way in which they did it. Their factories were some of the best places to work at the time, with great working conditions and social outlets for their workers.

By 1900, Baldwin pianos were awarded the Grand Prix at the Paris Exposition, one of the most distinguished piano awards in the entire world. The Baldwin Piano Company continued producing pianos throughout the 20th century, taking control of several other well-known piano brands like Chickering and Wurlitzer. Baldwin's prominence in the industry continued until 2001, when they declared bankruptcy and were purchased by Gibson Guitars. [3]

About Baldwin Pianos
Baldwin Pianos built a well-renowned name for themselves in the 20th century for some of the highest quality pianos ever built. Receiving awards around the world for their combination of tonal quality and aesthetic appeal, Baldwin pianos still hold their value and are found in great condition due to their owners' recognition of their worth.
Throughout the 1900s, Baldwin began producing a variety of different piano names such as Baldwin, Hamilton, Howard, Ellington, Valley Gem, St. Regis, Schroeder, Franke, Acrosonic, Kremlin, Modello, Monarch, and as recent as 1995, took over production of Sargent, Winton, Chickering and Wurlitzer.

Baldwin produced their first grand piano in 1895 in their Conway, Arkansas factory. Baldwin Piano Company was also famous for their large upright pianos and vertical pianos. While there are still Baldwin pianos being produced today, they are Asian imports and have variations to the soundboard and other critical elements that no longer mirror the original Baldwin designs.

Restoring a Baldwin Piano

Many Baldwin pianos that we see today are in great condition. For the earlier models, the quality of the workmanship is still evident even if significant repair is needed. We have many customers come to us and ask the value of their Baldwin piano.

If unrestored, a Baldwin piano can range in value from $2,000 to $25,000 depending on the year, make and model. However, if a customer is willing to invest in a restoration to the original condition and historical accuracy of the design, the value can increase to anywhere between $25,000 and $100,0000.

Contact Lindeblad Restoration to learn more about the value of restoring your Baldwin piano today!
References:
[1] Pierce, W. Robert. Pierce Piano Atlas: Anniversary Edition, 2017 Our 70th Year. Albuquerque: Ashley, 2017. Print.
[2] Dolge, Alfred. Pianos And Their Makers. London: Forgotten Books, 2015. Print.
[3] Dolge, Alfred. Pianos And Their Makers. London: Forgotten Books, 2015. Print.
Images:
https://www.periodpaper.com/products/1925-ad-baldwin-piano-company-vladmir-de-pachmann-chicago-new-york-dallas-denver-137431-ngm2-823
https://www.magazine-advertisements.com/baldwin-piano-company.html
https://en.wikipedia.org/wiki/Baldwin_Piano_Company