The History of Armstrong Pianos
Established in East Rochester, New York in 1884 by W.B. Armstrong, the Armstrong Piano Company produced grand, upright, and even coin operated pianos. In the early 1900's, Armstrong merged with the Foster Piano Company and became the Foster-Armstrong Company.
In 1926, the company moved its offices from Rochester, south to New York City. The Armstrong Company survived the Great Depression, and in 1959 was purchased by The Aeolian-American Corporation. Pianos bearing the Armstrong name were produced for almost a century until they discontinued the brand in 1982. [1]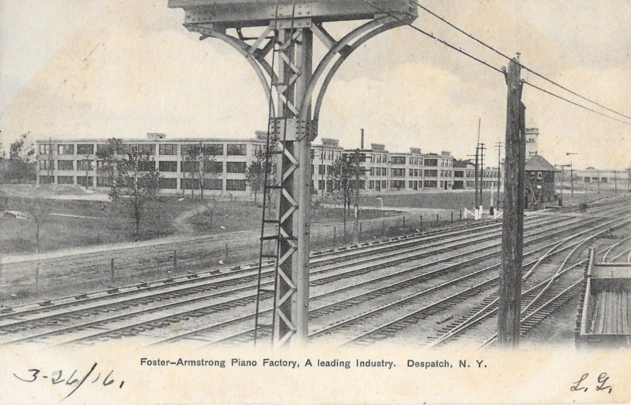 About Armstrong Pianos
"Sound in body and musical in soul" was the Armstrong Piano Company's motto, and it was a fitting one at that. Armstrong pianos were renown as instruments of high quality and refinement amongst the musical community in America. Possessing a beautiful tonal quality, Armstrong pianos were the only piano used by the Rochester, NY Public School System. Highly reliable, and visually appealing, Armstrong pianos cemented their place as one of the most durable pianos available during the 1900's. [2]
Restoring an Armstrong Piano
Armstrong pianos can retail for anywhere from a few hundred dollars, to $7,000 depending on the level of care and restoration that has gone into them. Grands tend to have a slightly higher value at market, but it heavily depends on the condition of the instrument. Lindeblad specializes in restoring old and unique pianos, and we would love to talk to you about your Armstrong piano. Contact us today and let's get started on your piano restoration project.
References:
[1] Pierce, W. Robert. Pierce Piano Atlas: Anniversary Edition, 2017 Our 70th Year. Albuquerque: Ashley, 2017. Print.
[2] http://www.bluebookofpianos.com/agesa.htm#Armstrong
Images:
https://www.hippostcard.com/listing/foster-armstrong-piano-factory-despatch-new-york-vintage-1906-ny-postcard/2412101