Angelus Manufacturer History
The Angelus was built by several manufacturing companies, starting with the Premier Grand Piano Corporation in the late 1800s until the Great Depression. Also made by Hallet and Davis, and later popularized by the Wilcox and White Company, the Angelus was a reproducing piano with a unique handmade player action that was easily applied to any piano [1]. Wilcox and White produced about 500 Angelus pianos a year out of their Meriden, Connecticut factory, which was situated across the street from their big competitor, the Aeolian Company[2, 3]. The use of the name Angelus was clever marketing, inspired by a French painting that had been in the American news for being bought at a high price in a Paris auction. The Angelus trademark first appeared on player pianos in 1897. [3]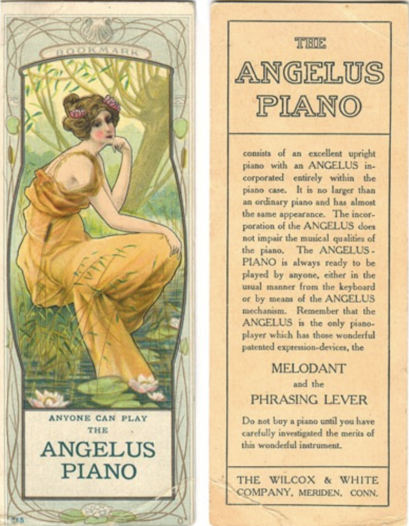 About Angelus
The Angelus is the name of the reproducing player mechanism that was applied to several piano shapes, including grand, square or upright, and cabinet pianos [4]. The implementation of the reproducing mechanism meant that the piano had self-playing capabilities, a feature that was popular in a time when women were expected to know how to play the piano [5].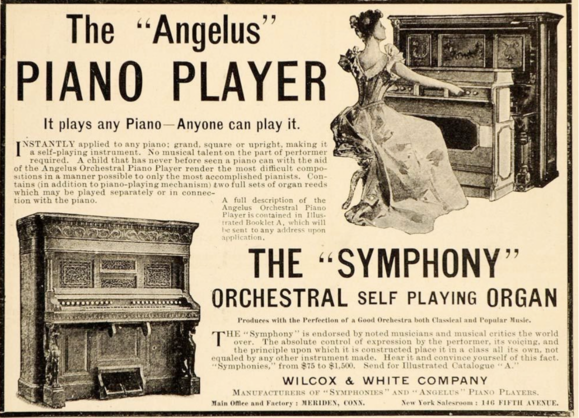 Restoring an Angelus
The piano player components of the Angelus are often removed rather than repaired due to the outdated design and uncommon mechanism used by Wilcox and White. [4, 6] It is generally accepted that Angelus are good quality pianos, and restorations to the piano itself are often worth the investment. Contact Lindeblad for more information.
[1] Pierce, W. Robert. Pierce Piano Atlas: Anniversary Edition, 2017 Our 70th Year. Albuquerque: Ashley, 2017. Print.
[2] http://www.bluebookofpianos.com/agesa.htm#Angelus
[3] http://www.pianola.org/factsheets/angelus.cfm
[4] https://www.player-care.com/player-piano-actions.html#Wilcox
[5] http://www.bmcvc.com/gallery/music/4501424
[6]
https://www.player-care.com/system22.html
[7]
www.periodpaper.com/products/1899-ad-angelus-player-piano-symphony-organ-meriden-ct-original-advertising-030768-old1a-051.