The History of the Crown Piano
Established in 1870, the "Crown" piano was a lesser-known piano name and but built by the famous George P. Bent Piano Company. Despite its popularity as a particular piano brand by the company, the Crown piano was discontinued when the George P. Bent stopped building pianos in 1929. [1] [2]
Due to the devastation of the Great Depression, the Crown brand name was produced up until the late 1940s. George P. Bent also produced the 'Crown' brand organs which were also sold and distributed by Sears Roebuck & Company on a limited basis at the turn-of-the-century. [1] The Geo. P. Bent Co. is now owned by the Adler Mfg. Co., of Louisville, Kentucky, which is now producing the "Crown" piano. [2]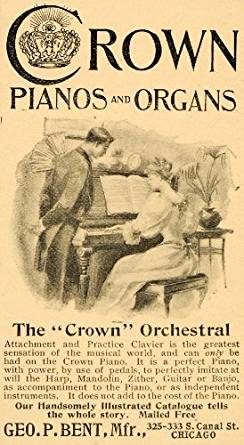 [4]

About Crown Pianos
The most famous innovations that the Crown pianos represented at the turn of the century were the 'Orchestral Attachment' and 'Practice Clavier'. Both of these were special features which could be controlled by the operation of extra foot pedals. [1][2] A unique piano feature that was not widely adopted by any other modern piano manufacturers, the Crown was a novelty and remains one when we see them pass through the shop at Lindeblad today.
The Crown Combinola piano plays the full scale - 88 notes - and the tubing is of flexible metal, silk-covered, and will last a lifetime, according to vintage advertisements. [2] [3]
[5]

Restoring a Crown Piano
Lindeblad specializes in restoring high-quality pianos. If you have a Crown piano or other special antique piano that you would like for us to evaluate for restoration, call Lindeblad today.
References:
[1] Pierce, W. Robert. Pierce Piano Atlas: Anniversary Edition, 2017 Our 70th Year. Albuquerque: Ashley, 2017. Print.
[2] http://antiquepianoshop.com/online-museum/crown/
[3] http://www.bluebookofpianos.com/agesc.htm#CROWN
[4] https://www.periodpaper.com/collections/music-instruments-1?page=3
[5] https://www.mypianofriends.com/