If you are considering selling your Steinway piano, use this page to inform and prepare yourself.
We buy over 100 Steinway pianos a year from across the U.S. and Canada. We draw from our experience in piano restoration in order to provide a fair evaluation of value in the current piano market. We also have our own shipping and logistics unit, facilitating pick-up of the pianos we purchase.
Pianos We're Interested in Buying
We buy Steinway pianos almost exclusively. However, we will occasionally buy other brands. It's worth giving us a call particularly if you have any of these pianos:
Steinway Grand Piano - models S, M, O, L, A, A3, B, C, and D
Steinway Upright Piano - newer Model Ks, model 1098, and model 45
Yamaha Grand Piano - any model in the C series
Mason & Hamlin - model BB
Questions We'll Ask You
To get started with the assessment, we'll ask you a few questions, including:
What is the piano's serial number?
How long have you had the instrument?
To the best of your knowledge, how many owners have had the piano?
Has the piano been restored in the past?
If so, when?
Who did the work?
Do you have a list of the parts that were serviced or replaced?
Original vs. New or Restored
Pianos on the market fall in to three broad categories: new, used with all original parts, and used with restored parts.
A used piano that is all original has strengths and weaknesses. Its strength is that no one has installed low-quality parts or performed subpar work on it. Its weakness is that over time, its components may have deteriorated past acceptability. A piano is made of wood, metal, wool, and leather, and these materials break down with use and time.
Buyers of Steinways are very picky and will want to make sure it will last another lifetime. Piano value is all about the condition (looks, sound, playability, and especially longevity). Typically, a quality hand-made piano needs to be rebuilt every 60-75 years depending on maintenance.
Photos
We request photographs so that we can make a reliable assessment. Specifically, we will ask for pictures as follows:
The cabinet from all sides (4 photos)
Legs (2 photos)
Pedals (1 photo)
Keys (2 photos)
Music rack (1 photo)
Lid outside and inside (2 photos)
Inside of the piano from multiple angles (4 photos)
Serial number (1 photo)
Undercarriage: Soundboard from underside (4 photos)
You can refer to the illustrations below as a guide for how your photos should look.
Email the photos to selling@lindebladpiano.com.
Bonus Material:
We love to hear the backstory of the piano and many of our customers ask about where it came from and who owned it.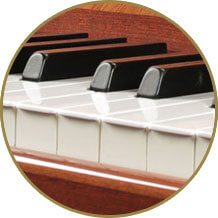 A piano is made of wood, metal, wool, and leather, and these materials break down with use and time.