OUR HISTORY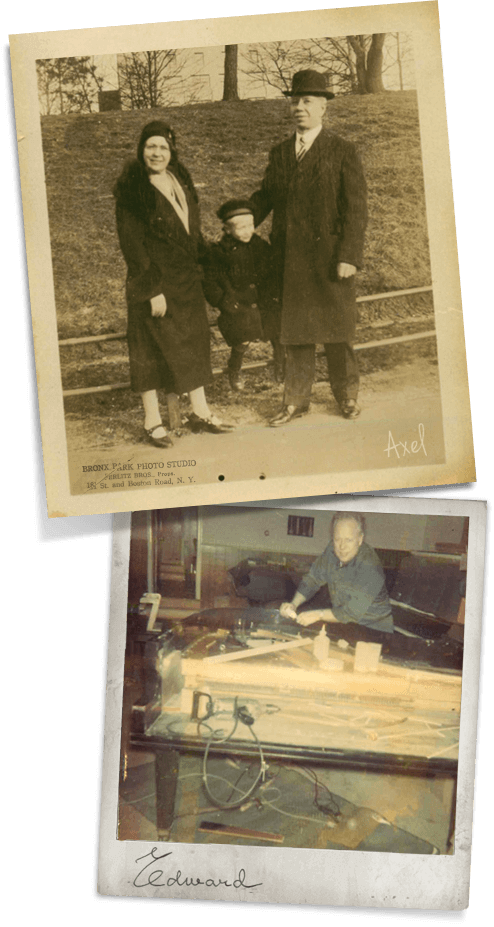 Axel Lindeblad, the family patriarch, was 25 when he left Stockholm, Sweden and immigrated to the United States in 1906. He had a passion for music and was an accomplished player on most stringed instruments.
In 1920, pursuing his love of music, Axel started our business out of his home in Brooklyn, New York, tuning and repairing pianos until 1956. In the early 1930's, he purchased property in Randolph, New Jersey as a family vacation spot for the summer months.
Axel's son, Ed Lindeblad, followed his father's footsteps in the piano business during his teenage years. In 1951, Ed moved to the property in Randolph that his father had purchased. During the early 1950's, Ed worked for Steinway & Sons and he started restoring pianos independently at a facility in Dover, New Jersey, in 1954. Almost ten years later, Ed built a restoration shop at the home in Randolph and it was here that his two sons, Paul and Eric, learned the family business.
Third generation sons Paul and Eric Lindeblad currently manage the restoration department. Paul is responsible for the well-being of all pianos during the restoration process. When Lindeblad restores your piano, Paul is your point of contact, guiding you through the process of tailoring the restoration then keeping you updated on our progress.
The fourth generation of the Lindeblad family, Paul's son Todd and Eric's sons Peter and Jon, work full time in the family business. Peter and Jon work closely with their father in the restoration department. Todd is the company's strategic and customer service lead, focusing his time managing and maintaining our quality of service and customer relationships.
The Lindeblad family has provided exceptional service restoring pianos for over a century. We are proud of the long tradition of craftsmanship and service that runs through our blood. Each day our team comes together, passionate about continuing the work of our ancestors. We look forward to the opportunity to share our passion with you.
Lindeblad is proud to be a supporter of music and the arts. We are an active part of the community at large and give back to organizations such as the Philadephia Fans of Classical Music and groups of all kinds.