For many piano owners, there is a decision that needs to be made whether to keep a family heirloom or antique piano as-is or to restore it to its former glory. At Lindeblad, we talk with a lot of our customers about their various restoration options to make an aging piano look brand new, but we also walk through the many important considerations prior to committing to a start-to-finish restoration project.
We've compiled a list of the most important and often underestimated considerations that we share with our customers during their research:
1. Restoration is significantly cheaper than buying a new, handmade piano of comparable value.
What many people do not realize is that the investment in restoring a valuable antique piano is far more affordable than buying a new piano of similar value. For example, Steinway & Sons pianos are some of the few handmade pianos still produced in the United States today. For our antique Steinway owner customers, investing in a full restoration of their Steinway cost significantly less than buying a new Steinway. Working with our restoration experts at Lindeblad, we can replace many of the aged or broken parts of your antique Steinway with new Steinway-certified parts and refinish the exterior to look brand new. This achieves the end result of new piano functionality and aesthetic without the price tag of a new piano.

2. Restoring a piano adds between 50 and 70 years of life to a piano.
Although it can be hard to pinpoint, the additional years of life that a piano gains from being restored to the near- new condition can range between 50 and 70 years. The "life" of a piano is defined as the overall condition of sound quality, interior and exterior elements that influence its playability. That said, the life of a piano is relative to its use, but adding 50-70 years of playability and beauty is a worthwhile investment to keep a valuable, handmade piano alive. Additionally, a new piano drops in value like a brand new car would. Restored pianos hold their value longer than brand new pianos.

3. Pianos can be refinished during restoration to achieve a customized look.
What many people do not realize is that they can select a variety of different finishes and custom stains for the refinishing part of the restoration process. At Lindeblad, we have a professional designer that works with our customers to achieve the desired stain. We can transform a piano from an originally matte natural wood finish to a high gloss finish. For example, please see the photos below.

Check out more restoration before and after photos on our blog here.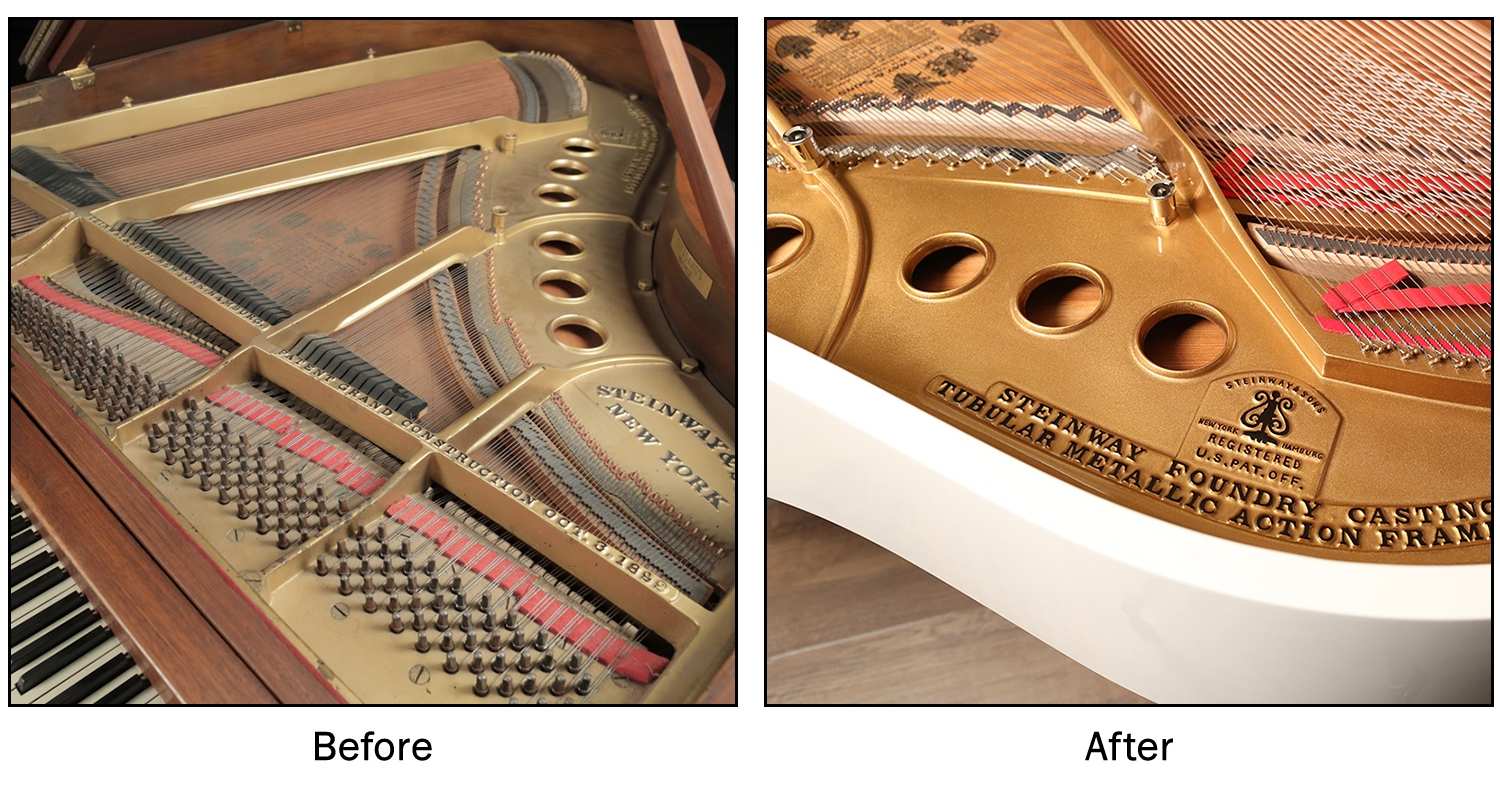 4. A piano's origin, use, and location all determine the need for restoration.
Over time, pianos are exposed to a variety of factors that can cause wear and tear, parts to break or decay, and even reduced sound quality. How a piano is produced determines its potential lifespan – a handmade piano is always going to outlast a mass-produced piano. But also, where a piano lives and how it is used influence its condition and can reduce its lifespan. A piano played every hour by students in a studio is going to see a significant amount of wear and tear compared to a piano on display in a foyer played only occasionally. The biography of a piano is important to consider during the restoration consultation process as certain parts of a piano may need to be replaced that other pianos may not need. Restoration is a very customized experience for the needs of each piano and customer.
5. Not all pianos are worth restoring.
The difference between a handmade and mass-produced piano is essential to knowing whether your piano is worth the investment in restoration. We've written a blog to help you determine the value of your brand of piano, and why this makes such a big difference in deciding to restore or not. Read more here!
6. The cost of restoration ranges depending on the amount of work that needs to be done.
One of the most critical deciding factors for people when decided whether to restore their piano is the price. What is the investment and is it worth it? Since each unrestored piano needs different replacement parts and has various refinishing and rebuilding requirements, the cost of each restoration is different. We work with our customers to put together a custom quote which can range from $10,000-50,000. For our customers looking to either restore their existing piano or buy a new piano, restoration pales in comparison to the cost of a new handmade piano which can range from $41,000-150,000.

7. The restoration timeline varies for each piano and can take a few months.
The amount of time it takes to complete a restoration depends on the amount of work that needs to be done for each specific piano. At Lindeblad, we have a team of highly-skilled piano experts. Each step in a restoration project is done by hand in our facility, and the start-to-finish process typically takes 6 months. Other piano restoration companies take 6 months to 3 years.
8. Adding new parts to a piano during restoration can still be historically accurate.
Many antique and heirloom piano owners have the utmost concern with maintaining the historical integrity of a piano. For these customers, the idea that a piano would have new parts installed creates a dilemma as to whether the piano is remaining true to its origins. At Lindeblad, we work with these owners to research and replace the parts of a piano with replacements of the historical originals. Particularly for our Steinway owners, we install Steinway-certified parts.
9. Hiring a mover to transport your piano to and from the restoration shop is an added cost and requirement for any restoration project.
Transporting a piano to and from a restoration shop is sometimes the trickiest part of the entire process. For many of our customers taking the leap and making the investment in restoration, making sure their precious instrument arrives without any damage to our facility is incredibly nerve-wracking. Making sure your piano mover has the right equipment is key – they should have equipment designed specifically for moving pianos in your home as well as lift gates for truck loading. At Lindeblad, we take the stresses out of moving the piano as we have our own piano moving teams. We retrieve and deliver pianos all across the US and even parts of Canada. We can also deliver anywhere in the world.

10. Restoring an antique piano actually adds to its value – it doesn't take away.
One of the most common misconceptions about the act of restoration is that it is taking away from the historical integrity, and therefore reducing the value of a piano. Similar to a painted masterpiece, if it is left to decay and the colors to fade, the value of that piece is far less than if it had been carefully kept in good condition. Piano restoration works in the same way – a 1900s-era Steinway that has been installed with new Steinway parts and given a freshly refinished cabinet is going to shine in a room instead of wasting away in a corner.

Steinway originally built in 1909
11. A warranty for your restored piano is a MUST.

Many of our customers wonder why a warranty is necessary on their antique or heirloom pianos once they are restored. At Lindeblad, we stand behind our work and ensure long-term satisfaction with the with an industry-leading warranty. We match Steinway's 5-year warranty on the soundboard and extend it an additional 15 years on all other parts. If the company you are evaluating for restoration does not offer a similar warranty, there is cause for suspicion.
12. Use a restoration company that does the work in-house.
At Lindeblad, we perform all restoration work in-house, whereas some restoration companies and dealers use subcontractors and send work out of the country. The stand out feature of our restoration department is our 300 combined years of experience brought to bear on your piano by our master craftsmen. This experience translates to a high degree of precision and accuracy both to technical standards accepted in the piano industry and execution of your particular requests. The power of this experience is magnified by our practice of having each craftsman specialize in a particular area. We have over 170 reviews on Google from many of our clients. You can read these here!
We would love to hear about your piano - what makes it unique, what is the story of how you acquired it, and what is your vision for it being restored. At Lindeblad, we have a team of piano enthusiasts who can advise on the best next steps to take to ensure satisfaction with a restored piano. Contact us today!